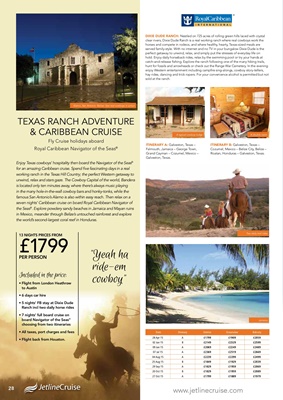 DIXIE DUDE RANCH: Nestled on 725 acres of rolling green hills laced with crystal
clear rivers, Dixie Dude Ranch is a real working ranch where real cowboys work the
horses and compete in rodeos, and where healthy, hearty, Texas-sized meals are
served family-style. With no internet and no TV in your bungalow Dixie Dude is the
perfect getaway to unwind, relax, and simply put the stresses of everyday life on
hold. Enjoy daily horseback rides, relax by the swimming pool or try your hands at
catch-and-release fishing. Explore the ranch following one of the many hiking trails,
hunt for fossils and arrowheads or check out the Range War Cemetery. In the evening
enjoy Western entertainment including campfire sing-alongs, cowboy story-tellers,
hay rides, dancing and trick ropers. For your convenience alcohol is permitted but not
sold at the ranch. www.jetlinecruise.com
Date Itinerary Interior Oceanview Balcony
28 Apr 15 A £1799 £1909 £2059
02 Jun 15 B £2149 £2329 £2599
09 Jun 15 A £2069 £2249 £2489
07 Jul 15 A £2369 £2519 £2669
04 Aug 15 A £2239 £2299 £2499
25 Aug 15 B £1849 £1929 £2039
29 Sep 15 A £1829 £1959 £2069
20 Oct 15 B £1829 £1959 £2089
27 Oct 15 A £1799 £1889 £1979
TEXAS RANCH ADVENTURE
& CARIBBEAN CRUISE
Fly Cruise holidays aboard
Royal Caribbean Navigator of the Seas®
Enjoy Texas cowboys' hospitality then board the Navigator of the Seas®
for an amazing Caribbean cruise. Spend five fascinating days in a real
working ranch in the Texas Hill Country; the perfect Western getaway to
unwind, relax and stars gaze. The Cowboy Capital of the world, Bandera
is located only ten minutes away, where there's always music playing
in the many hole-in-the-wall cowboy bars and honky-tonks, while the
famous San Antonio's Alamo is also within easy reach. Then relax on a
seven nights' Caribbean cruise on board Royal Caribbean Navigator of
the Seas®. Explore powdery sandy beaches in Jamaica and Mayan ruins
in Mexico, meander through Belize's untouched rainforest and explore
the world's second-largest coral reef in Honduras.
ITINERARY A: Galveston, Texas -
Falmouth, Jamaica - George Town,
Grand Cayman - Cozumel, Mexico -
Galveston, Texas.
Included in the price:
• Flight from London Heathrow
to Austin
• 6 days car hire
• 5 nights' FB stay at Dixie Dude
Ranch incl two daily horse rides
• 7 nights' full board cruise on
board Navigator of the Seas®
choosing from two itineraries
• All taxes, port charges and fees
• Flight back from Houston.
13 NIGHTS PRICES FROM
£1799PER PERSON "Yeah ha
ride-em
cowboy"
28
Alamo, San Antonio. Below: See real cowboys in action
A typical cowboy lodge
Jamaica
ITINERARY B: Galveston, Texas -
Cozumel, Mexico - Belize City, Belize -
Roatan, Honduras - Galveston, Texas.
A double room
Two daily trail rides