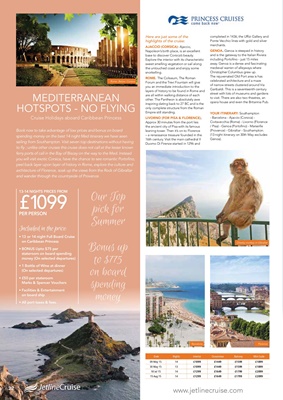 Here are just some of the
highlights of the cruise:
AJACCIO (CORSICA): Ajaccio,
Napoleon's birth place, is an excellent
base to discover Corsica's beauty.
Explore the interior with its characteristic
sweet smelling vegetation or sail along
the untouched coast and enjoy some
snorkelling.
ROME. The Coliseum, The Roman
Forum and the Trevi Fountain will give
you an immediate introduction to the
layers of history to be found in Rome and
are all within walking distance of each
other. The Pantheon is absolutely awe
inspiring dating back to 27 BC and is the
only complete structure from the Roman
Empire still standing.
LIVORNO (FOR PISA & FLORENCE).
Approx 30 minutes from the port lies
the ancient city of Pisa with its famous
leaning tower. Then it's on to Florence
- a renaissance treasure founded in the
16th century. Visit the main cathedral Il
Duomo Di Firenze started in 1296 and
MEDITERRANEAN
HOTSPOTS - NO FLYING
Cruise Holidays aboard Caribbean Princess
Book now to take advantage of low prices and bonus on board
spending money on the best 14 night Med itinerary we have seen
sailing from Southampton. Visit seven top destinations without having
to fly ; unlike other cruises this cruise does not call at the lesser known
ferry ports of call in the Bay of Biscay on the way to the Med. Instead
you will visit exotic Corsica, have the chance to see romantic Portofino,
peel back layer upon layer of history in Rome, explore the culture and
architecture of Florence, soak up the views from the Rock of Gibraltar
and wander through the countryside of Provence.
completed in 1436, the Uffizi Gallery and
Ponte Vecchio lines with gold and silver
merchants.
GENOA. Genoa is steeped in history
and is the gateway to the Italian Riviera
including Portofino - just 15 miles
away. Genoa is a dense and fascinating
medieval warren of alleyways where
Christopher Columbus grew up.
The rejuvenated Old Port area is has
celebrated architecture and a maze
of narrow streets clustered around Via
Garibaldi. This is a seventeenth century
street with lots of museums and gardens
to visit. There are also two theatres, an
opera house and even the Britannia Pub.
YOUR ITINERARY: Southampton
- Barcelona - Ajaccio (Corsica) -
Civitavecchia (Rome) - Livorno (Florence
/ Pisa) - Genoa (Portofino) - Marseille
(Provence) - Gibraltar - Southampton.
(13 night itinerary on 30th May excludes
Genoa).
Included in the price:
• 13 or 14 night Full Board Cruise
on Caribbean Princess
• BONUS Upto $75 per
stateroom on board spending
money (On selected departures)
• 1 Bottle of Wine at dinner
(On selected departures)
• £50 per stateroom
Marks & Spencer Vouchers
• Facilities & Entertainment
on board ship
• All port taxes & fees.
13-14 NiGHtS PRiCES FROM
£1099PER PERSON
22
Rome. Below: Corsica
Barcelona Florence
Date Nights Interior Oceanview Balcony Mini Suite
09 May 15 14 £1099 £1449 £1599 £1899
30 May 15 13 £1099 £1449 £1599 £1899
18 Jul 15 14 £1299 £1649 £1799 £2099
15 Aug 15 14 £1299 £1649 £1799 £2099
Cheeky monkey in Gibraltar
Our Top
pick for
Summer
Bonus up
to $775
on board
spending
money