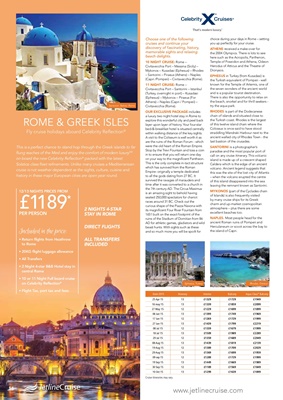 Choose one of the following
cruises and continue your
discovery of fascinating, history,
memorable sights and relaxing
beach delights.
10 NIGHT CRUISE: Rome -
Civitavecchia Port - Messina (Sicily) -
Mykonos - Kusadasi (Ephesus) - Rhodes
- Santorini - Piraeus (Athens) - Naples
(Capri /Pompeii) - Civitavecchia (Rome).
11 NIGHT CRUISE: Rome -
Civitavecchia Port - Santorini - Istanbul
(Turkey, overnight in port) - Kusadasi
(Ephesus) - Mykonos - Piraeus (For
Athens) - Naples (Capri / Pompeii) -
Civitavecchia (Rome).
OUR EXCLUSIVE PACKAGE includes
a luxury two night hotel stay in Rome to
explore this wonderful city and peel back
layer upon layer of history. Your four-star
bed-&-breakfast hotel is situated centrally
within walking distance of the key sights.
A visit to the Coliseum is well worth it as
are the ruins of the Roman Forum - which
were the old heart of the Roman Empire.
Stop by the Trevi Fountain and toss a coin
in to ensure that you will return one day
on your way to the magnificent Pantheon.
This is the only complete in-tact structure
which has survived from the Roman
Empire- originally a temple dedicated
to all the gods dating from 27 BC. It
survived the ravages of marauders and
time after it was converted to a church in
the 7th century AD. The Circus Maximus
is an amazing sight to behold having
seated 250,000 spectators for chariot
races around 31 BC. Check out the
curious shape of the Piazza Navona with
its magnificent Four River Fountain from
1651 built on the exact footprint of the
ruins of the Stadium of Domitian from 86
AD for athletic games, gladiators and wild
beast hunts. With sights such as these
and so much more you will be spoilt for
Date 2015 Itinerary Interior Balcony Aqua Class® Balcony
25 Apr 15 13 £1329 £1729 £1949
16 may 15 13 £1339 £1859 £2099
27 May 15 12 £1229 £1699 £1899
06 Jun 15 13 £1399 £1749 £1969
17 Jun 15 12 £1269 £1729 £1999
27 Jun 15 13 £1439 £1799 £2219
08 Jul 15 12 £1339 £1679 £1999
18 Jul 15 13 £1509 £1989 £2289
29 Jul 15 12 £1359 £1689 £2049
08 Aug 15 13 £1439 £1819 £2139
19 Aug 15 12 £1389 £1709 £2029
29 Aug 15 13 £1369 £1699 £1959
09 sep 15 12 £1289 £1729 £1999
19 Sep 15 13 £1449 £1669 £1989
30 Sep 15 12 £1189 £1569 £1849
10 Oct 15 13 £1299 £1639 £1899
Cruise itineraries may vary.
ROME & GREEK ISLES
Fly cruise holidays aboard Celebrity Reflection®
This is a perfect chance to island hop through the Greek islands to far
flung reaches of the Med and enjoy the comfort of modern luxurySM
on board the new Celebrity Reflection® packed with the latest
Solstice class fleet refinements. Unlike many cruises a Mediterranean
cruise is not weather dependent as the sights, culture, cuisine and
history in these major European cities are open year round.
choice during your days in Rome - setting
you up perfectly for your cruise.
ATHENS received a make-over for
the 2004 Olympics. There is lots to see
here such as the Acropolis, Parthenon,
Temple of Poseidon and Athena, Odeon
Herodus of Atticus and the Theatre of
Dionysos.
EPHESUS in Turkey (from Kusadasi) is
the Turkish equivalent of Pompeii - well
known for the Temple of Artemis, one of
the seven wonders of the ancient world
and is a popular tourist destination.
There is also the opportunity to relax on
the beach, snorkel and for thrill seekers -
try the aqua park.
RHODES is part of the Dodecanese
chain of islands and situated close to
the Turkish coast. Rhodes is the largest
of this twelve island chain where the
Colossus is once said to have stood
straddling Mandraki Harbour next to the
ancient walled city of Rhodes Town - the
last bastion of the crusades.
SANTORINI is a photographer's
paradise and the most popular port of
call on any cruise itinerary. This volcanic
island is made up of a crescent shaped
Caldera which is the edge of an ancient
volcano. Ancient legend suggests that
this was the site of the lost city of Atlantis
- when the volcano erupted the centre
of this island disappeared into the sea
leaving the remnant known as Santorini.
MYKONOS (part of the Cyclades chain
of Islands) is also frequently visited
by many cruise ships for its Greek
charm and up-market cosmopolitan
atmosphere - plus there are some
excellent beaches too.
NAPLES. Most people head for the
ancient Roman ruins of Pompeii and
Herculaneum or scoot across the bay to
the island of Capri.
Included in the price:
• Return flights from Heathrow
to Rome
• 20KG flight luggage allowance
• All transfers
• 2 Night 4-star B&B Hotel stay in
central Rome
• 10 or 11 Night Full board cruise
on Celebrity Reflection®
• Flight tax, port tax and fees.
12/13 NIGHTS PRICES FROM
£1189*
PER PERSON
16
Santorini. Below: Rome
Ephesus, Turkey Rhodes, Greece
2 NIGHTS 4-STAR
STAY IN ROME
DIRECT FLIGHTS
ALL TRANSFERS
INCLUDED