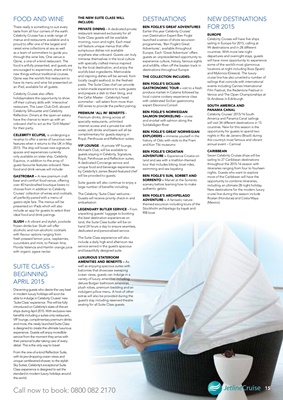 NEW DESTINATIONS
FOR 2015
EUROPE
Celebrity Cruises will have five ships
sailing in Europe for 2015, calling at
94 destinations and in 28 different
countries. With more late night
departures and overnight stays, guests
will have more opportunity to experience
some of the world's most glamorous
locations at night including Ibiza (Spain)
and Mykonos (Greece). The luxury
cruise line has also unveiled a number of
sailings that coincide with international
events including Cannes International
Film Festival, the Redentore Festival in
Venice and The Open Championships at
St Andrews in Edinburgh.
SOUTH AMERICA AND
PANAMA CANAL
Celebrity Cruises' 2015/16 South
America and Panama Canal sailings
will visit 34 different destinations in 15
countries. New for this season is the
opportunity for guests to spend two
nights in Rio de Janeiro (Brazil) during
the country's most famous and vibrant
annual event - Carnival
CARIBBEAN
Seven Celebrity Cruises ships will be
sailing to 27 Caribbean destinations
throughout the 2015-16 season with
itineraries ranging from four to fourteen
nights. Guests who want to explore
more of the Caribbean will have the
opportunity to combine itineraries,
including an ultimate 28 night holiday.
New destinations for the modern luxury
cruise line during this season include
Roatan (Honduras) and Costa Maya
(Mexico).
FOOD AND WINE
There really is something to suit every
taste from all four corners of the earth.
Celebrity Cruises has a wide range of
menus and restaurants available and is
proud to offer one of the largest and
rarest wine collections at sea as well
as a team of sommeliers to guide you
through the wine lists. One venue is
Qsine, a one-of-a-kind restaurant. The
food is artfully presented, and guests are
encouraged to experiment, share and try
new things without traditional courses.
Qsine was the world's first restaurant to
have its menu and wine list presented on
an iPad, available for all guests.
Celebrity Cruises also offers
holidaymakers the opportunity to show
off their culinary skills with 'interactive'
restaurant, The Lawn Club Grill, aboard
Celebrity Silhouette and Celebrity
Reflection. Diners at the open-air eatery
have the chance to team up with an
onboard chef to act as the 'Grill Master'
for their party.
CELEBRITY ECLIPSE, is undergoing a
revamp to offer a series of luxurious new
features when it returns to the UK in May
2015. The ship will boast new signature
spaces and experiences currently
only available on sister ship, Celebrity
Equinox, in addition to the array of
guest-favourite features onboard. New
food and drink venues will include:
GASTROBAR - A new premium craft
beer and comfort food venue, offering
over 40 handcrafted boutique beers to
choose from in addition to Celebrity
Cruises' collection of wines and cocktails,
all perfectly paired with a menu of
gastro-style fare. The menus will be
presented on iPads which will also
include an app for guests to select their
ideal food and drink pairings.
SLUSH - A vibrant and stylish, poolside
frozen drinks bar. Slush will offer
alcoholic and non-alcoholic cocktails
with flavour options ranging from
fresh pressed lemon juice, raspberries,
cucumbers and mint, to Persian lime,
Florida Valencia and Hamlin orange juice
with organic agave nectar.
SUITE CLASS -
BEGINNING
APRIL 2015
Discerning guests who desire the very best
in modern luxury holidays will soon be
able to indulge in Celebrity Cruises' new
'Suite Class' experience. This will be fully
introduced on Celebrity's state-of-the-art
ships during April 2015. With exclusive new
benefits including a suites-only restaurant,
VIP lounge, complimentary premium drinks
and more, the newly launched Suite Class
is designed to create the ultimate luxurious
experience. Guests will enjoy incredible
service from the moment they arrive with
their personal butler taking care of every
detail. This is the only way to travel.
From the one-of-a-kind Reflection Suite,
with its jaw-dropping ocean views and
unique cantilevered shower, to the stylish
Sky Suites, Celebrity's exceptional Suite
Class experience is designed to set the
standard in modern luxury holidays around
the world.
15
Call now to book: 0800 082 2170
THE NEW SUITE CLASS WILL
INCLUDE:
PRIVATE DINING - A dedicated private
restaurant reserved exclusively for all
Suite Class guests will be available
morning, noon and night. Each meal
will feature unique menus that offer
sumptuous dishes not available
anywhere else onboard. Guests can truly
immerse themselves in the local culture
with specially crafted menus inspired
by the local destination, and enjoy the
world's best ingredients. Memorable
and inspiring dishes will be served, from
locally caught seafood, to the freshest
pasta. The Suite Class chef can provide
a tailor-made experience to suite guests
and prepare a dish to their liking, and
the Cellar Master - Celebrity's head
sommelier - will select from more than
450 wines to provide the perfect pairing.
PREMIUM 'ALL IN' BENEFITS -
Premium drinks, dining across all
specialty restaurants, unlimited
internet access and a private bar with
water, soft drinks and beers will all be
complimentary for guests staying in
Royal, Penthouse and Reflection suites.
VIP LOUNGE - A private VIP lounge,
Michael's Club, will be available to
guests staying in Celebrity, Signature,
Royal, Penthouse and Reflection suites.
A dedicated Concierge service and
unique food and beverage experiences
by Celebrity's James Beard-featured chef
will be provided to guests.
Suite guests will also continue to enjoy a
large number of benefits including:
The Celebrity 'Suite Class' welcome -
Guests will receive priority check-in and
embarkation
LEGENDARY BUTLER SERVICE - From
unpacking guests' luggage to booking
the best destination experiences on
land, the Suite Class butler will be on
hand 24 hours a day to ensure seamless,
dedicated and personalised service.
The Suite Class experience will also
include a daily high-end afternoon tea
service served in the guest's spacious
and beautifully designed suite.
LUXURIOUS STATEROOM
AMENITIES AND BENEFITS - As
well as enjoying spacious suites with
balconies that showcase sweeping
ocean views, guests can indulge in a
variety of luxury amenities including
deluxe Bulgari bathroom amenities,
plush robes, premium bedding and an
indulgent pillow menu. A host of other
extras will also be provided during the
guest's stay including reserved theatre
seating for all Suite Class guests.
DESTINATIONS
BEN FOGLE'S GREAT ADVENTURES
Earlier this year Celebrity Cruises'
own Destination Expert Ben Fogle
launched a series of shore excursion
programmes, 'Ben Fogle's Great
Adventures', available throughout
Europe. Each 'Great Adventure' offers
guests an unprecedented opportunity to
experience culture, history, famous sights
and wildlife, often off the beaten track in
destinations throughout Europe
THE COLLECTION INCLUDES:
BEN FOGLE'S SICILIAN
GASTRONOMIC TOUR - visit to a fresh
produce market in Catania followed by
local cuisine cookery experience class
with celebrated Sicilian gastronomy
expert Eleonora Consoli
BEN FOGLE'S NORWEGIAN
SALMON SNORKELING - cruise
and snorkel with salmon along the
Suldalslågen River
BEN FOGLE'S GREAT NORWEGIAN
EXPLORERS - immerse yourself in the
history of Oslo with visits to the Fram
and Kon Tiki museums
BEN FOGLE'S CROATIAN
ADVENTURE - Experience Croatia on
land and sea with a triathlon-themed
tour that includes biking, boat rides,
swimming and sea kayaking
BEN FOGLE'S SUN, SORBET AND
SORRENTO - Marvel at the Sorrento
scenery before learning how to make
authentic gelato
BEN FOGLE'S ARCHIPELAGO
ADVENTURE - A fantastic naturethemed excursion including tours of the
Stockholm archipelago by kayak and
RIB boat