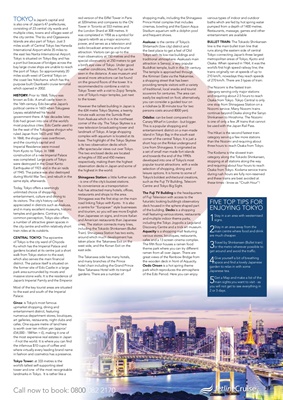 39
Call now to book: 0800 082 2170
various types of indoor and outdoor
baths which are fed by hot spring water
pumped from a depth of 1400 metres.
Restaurants, massage, games and other
entertainment are available
BULLEt tRAiN: The Tokaido Shinkansen
line is the main bullet train line that
runs along the eastern side of central
Tokyo connecting Japan's three largest
metropolitan areas of Tokyo, Kyoto and
Osaka. When opened in 1964, it was the
world's first high speed railway line; the
trains originally ran at speeds of up to
210 km/h, nowadays they reach speeds
of 270 km/h. There are 3 types of train:
The Nozomi is the fastest train
category serving only major stations
and requiring about 2.5 hours to reach
Osaka from Tokyo. Tokyo Central is only
one stop from Shinagawa Station on a
Nozomi service. Many Nozomi trains
continue beyond Osaka along the Sanyo
Shinkansen to Hiroshima. The Nozomi
is one of only a few JR trains that cannot
be used with the Japan Rail Pass.
The Hikari is the second fastest train
category serving a few more stations
than the Nozomi and requiring about
three hours to reach Osaka from Tokyo.
The Kodama is the slowest train
category along the Tokaido Shinkansen,
stopping at all stations along the way
and requiring about four hours to reach
Osaka from Tokyo. Kodama service trains
during rush hours are fully non-reserved
and these trains are best avoided at
these times - know as "Crush Hour"!
TOKYO is Japan's capital and
is also one of Japan's 47 prefectures,
consisting of 23 central city wards and
multiple cities, towns and villages west of
the city centre. The Izu and Ogasawara
Islands are also part of Tokyo. Just 3
miles south of Central Tokyo lies Haneda
International Airport while 35 miles to
the east lies Narita International Airport.
Tokyo is situated on Tokyo Bay and has
a port but because of bridges across the
bay large cruise ships are unable to reach
the port of Tokyo. So approximately 20
miles south-west of Central Tokyo on
the coast lies Yokohama which has the
purpose built Osanbashi cruise terminal
which opened in 2002.
HISTORY: Prior to 1868, Tokyo was
known as Edo. A small castle town in
the 16th century, Edo became Japan's
political centre in 1603 when Tokugawa
Leyasu established his feudal
government there. A few decades later,
Edo had grown into one of the world's
most populous cities. Edo Castle used to
be the seat of the Tokugawa shogun who
ruled Japan from 1603 until 1867.
In 1868, the shogun was overthrown,
and the country's capital and
Imperial Residence were moved
from Kyoto to Tokyo. In 1888
construction of a new Imperial Palace
was completed. Large parts of Tokyo
were destroyed in the Great Kanto
Earthquake of 1923 and in the air raids
of 1945. The palace was also destroyed
during World War Two, and rebuilt in the
same style, afterwards.
Today, Tokyo offers a seemingly
unlimited choice of shopping,
entertainment, culture and dining to
its visitors. The city's history can be
appreciated in districts such as Asakusa,
and in many excellent museums, historic
temples and gardens. Contrary to
common perception, Tokyo also offers
a number of attractive green spaces in
the city centre and within relatively short
train rides at its outskirts.
CENtRAL tOKYO: The epicentre
of Tokyo is the city ward of Chiyoda
Ku which has the Imperial Palace and
gardens located at its centre just a short
walk from Tokyo station to the east;
which also serves the main financial
district. The palace itself is situated on
the former site of Edo Castle in a large
park area surrounded by moats and
massive stone walls. It is the residence of
Japan's Imperial Family and the Emperor.
Most of the key tourist areas are situated
to the east and south of the Imperial
Palace:
Ginza: is Tokyo's most famous
upmarket shopping, dining and
entertainment district, featuring
numerous department stores, boutiques,
art galleries, restaurants, night clubs and
cafes. One square metre of land here
is worth over ten million yen (approx'
£54,000 - 184Yen = £), making it one of
the most expensive real estates in Japan
- if not the world. It is where you can find
the infamous $10 cups of coffee and
where virtually every leading brand name
in fashion and cosmetics has a presence.
tokyo tower: at 333 metres is the
world's tallest self-supporting steel
tower and one of the most recognisable
landmarks in Tokyo. It is rather like a
red version of the Eiffel Tower in Paris
at 320metres and compares to the CN
Tower in Toronto at 553 metres and
the London Shard at 308 metres. It
was completed in 1958 as a symbol for
Japan's rebirth as a major economic
power, and serves as a television and
radio broadcast antenna and tourist
attraction. Visitors can go up to the
main observatory at 150 metres and the
special observatory at 250 meters to get
a bird's eye view of Tokyo. Under good
weather conditions, Mount Fuji can be
seen in the distance. A wax museum and
several more attractions can be found
on the ground floors of the tower. It is
recommended to combine a visit to
Tokyo Tower with a visit to Zojoji Temple,
one of Tokyo's major temples, just next
to the tower.
However the tallest building in Japan is
the 634 metre Tokyo Skytree, a twenty
minute walk across the Sumida River
from Asakusa which is in the northeast
corner of the city. The Tokyo Skytree is a
new television broadcasting tower and
landmark of Tokyo. A large shopping
complex with aquarium is located at its
base. The highlight of the Tokyo Skytree
is its two observation decks which
offer spectacular views out over Tokyo.
The two enclosed decks are located
at heights of 350 and 450 meters
respectively, making them the highest
observation decks in Japan and some of
the highest in the world.
shinagawa station: a little further south
- is one of the city's busiest stations.
Its convenience as a transportation
hub has attracted many hotels, offices,
restaurants and shops to the area.
Shinagawa was the first stop on the main
road linking Tokyo with Kyoto. It is also
a centre for "European" style businesses
and tourism, so you will see more English
than Japanese on signs, and more Italian
and American restaurants than Japanese
ones. The station connects many lines,
including the Tokaido Shinkansen (Bullet
Train). Shinagawa Station has two exits,
around which much development has
taken place: the Takanawa Exit on the
west side, and the Konan Exit on the
east side.
The Takanawa side has many hotels,
and many branches of the Prince
hotel chain including the Grand Prince
New Takanawa Hotel with its tranquil
gardens. There are a number of
shopping malls, including the Shinagawa
Prince Hotel complex that includes
cinemas, bowling and the Epson Aqua
Stadium aquarium with a dolphin pool
and frequent shows.
Asakusa: is the centre of Tokyo's
Shitamachi (low city) district and
the best place to get a feel of Old
Tokyo with its low rise buildings and
traditional atmosphere. Asakusa's main
attraction is Sensoji, a very popular
Buddhist temple, built in the 7th century.
The temple is approached through
the Kiminari Gate via the Nakamise,
a shopping street that has been
providing temple visitors with a variety
of traditional, local snacks and tourist
souvenirs for centuries. The area can
easily be explored on foot; alternatively,
you can consider a guided tour on
a rickshaw (a 30 minute tour for two
persons costs around 8000 yen).
Odaiba: can be best compared to
Canary Wharf in London - but bigger.
This is a popular shopping and
entertainment district on a man-made
island in Tokyo Bay in the south east
corner of the central Tokyo. It is just a
short hop on the Rinkai underground
Line from Shinagawa. It originated as
a set of small man made fort islands
and towards the end of the 1990's
developed into one of Tokyo's most
popular tourist attractions with a wide
selection of shopping, dining and
leisure options. It is home to some of
Tokyo's boldest architectural creations,
such as the Fuji TV Building, Telecom
Centre and Tokyo Big Sight.
the Fuji tV Building is the headquarters
of Fuji Television with access to the
futuristic looking building's observatory
deck housed in the sphere shaped part
of the building. Decks is a shopping
mall featuring various stores, restaurants
and multiple indoor theme parks,
including the Tokyo Joypolis a Legoland
Discovery Centre and a trick art museum.
Aquacity is a shopping mall featuring
various stores, boutiques, restaurants,
cafes and a 13 screen cinema complex.
The fifth floor houses a ramen food
theme park where you can try different
ramen from all over Japan. There are
great views of the Rainbow Bridge from
the wooden deck in front of Aquacity.
Oedo Onsen is a hot spring theme
park which reproduces the atmosphere
of the Edo Period. Here you can enjoy
FIVE TOP TIPS FOR
ENJOYING TOKYO
1
Stay in a an area with westernised
signs.
2
Stay in an area away from the
main centre where food and drink
are much cheaper.
3
Travel by Shinkansen (Bullet train)
or the metro wherever possible to
get around and avoid the traffic.
4
Give yourself a bit of breathing
space and find a lovely Japanese
garden to relax in with some
Japanese tea.
5
Get a Map and make a list of the
main sights you want to visit - as
you will not get to see everything in
2 or 3 days.