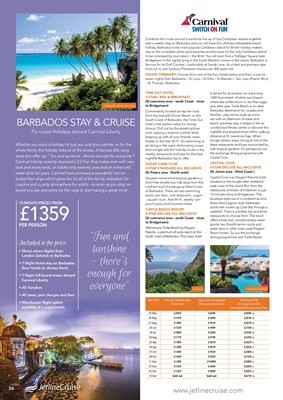 Combine this cruise around a sunshine line up of top Caribbean islands together
with a weeks' stay on Barbados and you will have the ultimate-unbeatable beach
holiday. Barbados is the most popular Caribbean island for British holiday makers
due to the incredible white sand beaches and because it's the only Caribbean Island
to be colonised by one nation - the Brits! You will even find a Trafalgar Square here.
Bridgetown is the capital lying in the South Western corner of the island. Barbados is
famous for its Golf Courses - particularly at Sandy Lane, its cricket and perhaps take
time out to visit Sunbury Plantation House over 300 years old.
CRUISE ITINERARY: Choose from one of the four hotels below and then cruise for
seven nights from Barbados - St Lucia - St Kitts - St Maarten - San Juan (Puerto Rico)
- St Thomas- Barbados.
Date 2015 Time Out 3 B&B Hotel
Prices From
Sugar Cane 4 Standard
All Inclusive Prices From
Turtle Beach (TB)
OR Crystal Cove (CC)
4 Deluxe All Inclusive Prices From
25 Mar £2059 £2699 £3049 TB
20 May £1479 £1999 £2079 TB
27 May £1499 £1979 £2079 TB
24 Jun £1529 £1999 £2159 CC
29 Jul £1899 £2389 £2559 TB
26 Aug £1719 £2199 £2359 TB
23 Sep £1399 £1879 £2029 CC
30 Sep £1399 £1879 £2029 CC
07 Oct £1449 £1929 £2069 CC
28 Oct £1449 £1929 £2129 CC
11 Nov £1399 £18993 £2099 CC
25 Nov £1359 £1899 £2059 CC
02 Dec £1359 £1899 £2055 CC
23 Dec Sold out Sold out £4219 TB
BARBADOS STAY & CRUISE
Fly cruise Holidays aboard Carnival Liberty
Whether you want a holiday for just you and your partner, or for the
whole family this holiday ticks all of the boxes. A famous 80's song
sums this offer up: " fun and sunshine - there's enough for everyone"!
Carnival Liberty recently received a 2.0 Fun Ship make-over with new
bars and restaurants, an adults-only serenity area and an enhanced
water slide fun park. Carnival have achieved a wonderful mix on
board their ships which gives fun for all of the family, relaxation for
couples and a party atmosphere for adults - as soon as you step on
board you are overcome by the urge to start having a great time!
Included in the price:
• Direct return flights from
London Gatwick to Barbados
• 7 Night Hotel stay on Barbados
(four hotels to choose from)
• 7 Night full board cruise aboard
Carnival Liberty
• All transfers
• All taxes, port charges and fees
• Manchester flight option
available at a supplement.
15 NiGHts PRiCEs FROM
£1359PER PERsON
"Fun and
sunshine
- there's
enough for
everyone"
36
Barbados. Below: San Juan
TIME OUT HOTEL
3-STAR+ BED & BREAKFAST
(st Lawrence area - south Coast - close
to Bridgetown)
Conveniently located across the road
from the beautiful Dover Beach on the
South Coast of Barbados, the Time Out
hotel is the perfect value for money
choice. Chill out by the sparkling blue
pool, sipping a tropical cocktail while
keeping up with all your friends' news
thanks to the free Wi-Fi. Go swimming or
jet skiing in the warm shimmering ocean.
And mingle with the friendly locals in the
nearby restaurants and bars for the best
nightlife Barbados has to offer.
SUGAR CANE CLUB
4-STAR STANDARD ALL INCLUSIVE
(st Peters area - North west)
Situated inland amid tropical gardens a
short free shuttle bus ride away from the
northern end of prestigious West Coast
of Barbados. There are two swimming
pools, two bars , one restaurant , a gym
, squash court , free Wi-Fi, weekly rumpunch party and mountain bikes.
TURTLE BEACH RESORT
4-STAR DELUXE ALL INCLUSIVE
(st Lawrence area - south Coast - close
to Bridgetown)
Welcome to Turtle Beach by Elegant
Resorts - a premium all-suite resort on the
South coast of Barbados. This luxury hotel
is famed for its location on a stunning
1500-foot stretch of white sand beach
where sea turtles return to lay their eggs
year after year. Turtle Beach is an ideal
Barbados destination for couples and
families - play tennis, soak up some
sun with an afternoon of water and
beach activities, stay in shape in the air
conditioned fitness centre or discover the
nightlife and entertainment within walking
distance at St. Lawrence Gap. When
hunger strikes, enjoy dining at one of the
three restaurants and bars surrounded by
lush tropical gardens. Or perhaps try out
the exchange dining programme with
Crystal Cove.
CRYSTAL COVE
4-STAR DELUXE ALL INCLUSIVE
(st James area - West Coast )
Crystal Cove is an Elegant Resorts hotel
situated on the sought after sheltered
west coast of the island 3km from the
restaurants and bars of Holetown or just
15 minutes drive to Bridgetown. This
boutique style resort is centered around
three tiered lagoon style freshwater
pools with a swim up Cave Bar through a
waterfall. There is a further bar and three
restaurants to choose from. The resort
offers a kids club, complimentary water
sports, two floodlit tennis courts and
water taxis to other west coast Elegant
Resort hotels. Try out the exchange
dining programme with Turtle Beach.
Crystal Cove pool
St Lucia