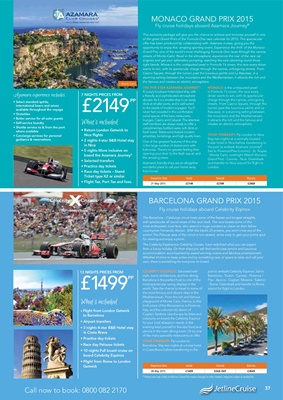 This exclusive package will give you the chance to witness and immerse yourself in one
of the great Grand Prix's of the Formula One race calendar for 2015. This spectacular
offer has been produced by collaborating with Azamara cruises, giving you the
opportunity to enjoy this amazing sporting event. Experience the thrill of the Monaco
Grand Prix, one of the world's most challenging Formula One races through the narrow
streets of Monte-Carlo. Revel in the atmosphere, experience the roar of the race car
engines and get your adrenaline pumping, watching the cars careering round those
tight bends. Monaco is the undisputed jewel in Formula 1's crown, the race every driver
wants to win, with its spectacular charge through the narrow, unforgiving streets. From
Casino Square, through the tunnel, past the luxurious yachts and La Rascasse, in a
stunning setting between the mountains and the Mediterranean, it attracts the rich and
the famous and creates an electric atmosphere.
7 NiGHts PRiCEs FROM
£2149
MONACO is the undisputed jewel
in Formula 1's crown, the race every
driver wants to win, with its spectacular
charge through the narrow, unforgiving
streets. From Casino Square, through the
tunnel, past the luxurious yachts and La
Rascasse, in a stunning setting between
the mountains and the Mediterranean,
it attracts the rich and the famous and
creates an electric atmosphere.
YOUR ITINERARY: Fly London to Nice.
Stay two nights at a centrally located
4-star hotel in Nice before transferring to
the port to embark Azamara Journey®.
Sail to Florence/Pisa (Livorno) - St. Tropez
- Monte Carlo, overnight (Watch Monaco
Grand Prix) - Cannes - Nice. Disembark
and transfer to Nice airport for flight to
London.
Departure Date Inside Outside Balcony
21 May 2015 £2149 £2399 £2869
Call now to book: 0800 082 2170
Monte Carlo
Azamara experience includes
• select standard spirits,
international beers and wines
available throughout the voyage
• Gratuities
• Butler service for all suite guests
• self-service laundry
• shuttle service to & from the port
where available
• Concierge services for personal
guidance & reservations
PP
37
MONACO GRAND PRIX 2015
Fly cruise holidays aboard Azamara Journey®
BARCELONA GRAND PRIX 2015
Fly cruise holidays aboard Celebrity Eqinox
The Barcelona - Catalunya circuit hosts some of the fastest and longest straights,
with spectacular all round views of the race track. The race boasts some of the
most enthusiastic local fans, who attend in huge numbers to cheer on their fellow
countryman Fernando Alonso.. With the track's 23 screens, you won't miss any of the
action! The Pelouse area of the circuit is non-seated, arrive early to gain your prime spot
for viewing and enjoy a picnic.
The Celebrity Experience: Celebrity Cruises have redefined what you can expect
from a luxury holiday. On their ships you will find world-class service and luxurious
accommodation accompanied by award-winning cuisine and fabulous entertainment.
Whether it's time to keep active and try something new, or space to relax and call your
own, there is something for everyone on board.
13 NiGHts PRiCEs FROM
£1499 CELEBRITY EQUINOX: Saturated with
style, iconic architecture, and fine dining,
Barcelona is the perfect host to one of the
most spectacular racing displays in the
world. Take the chance to travel to some of
the most famous and vibrant cities in the
Mediterranean. From the rich and famous
playground of Monte Carlo, France, to the
birth place of the Renaissance in Florence,
Italy, and the cultured old district of
Cagliari, Sardinia. Use the spa facilities and
solariums on-board the Celebrity Equinox
for your total relaxation needs. In the
evening treat yourself to five-star food and
service in the main dining room. Or try one
of the many speciality restaurants on offer.
YOUR ITINERARY: Fly London to
Barcelona. Stay two nights at a 4-star hotel
in Costa Brava before transferring to the
Departure Date Inside Outside Balcony
08 May 2015 £1499 SOLD OUT £2049
* Please note seat tickets at Monaco Grand Prix maybe changed to other Seated Categories subject to availability.
port to embark Celebrity Equinox. Sail to
Barcelona - Toulon - Cannes - Florence /
Pisa - Ajaccio - Cagliari- Messina - Salerno
- Rome. Disembark and transfer to Rome
airport for flight to London.
What's included
• Flight from London Gatwick
to Barcelona
• Airport transfers
• 3 nights 4-star B&B Hotel stay
in Costa Brava
• Practice day tickets
• Race day Pelouse tickets
• 10 nights Full board cruise on
board Celebrity Equinox
• Flight from Rome to London
Gatwick
PP
THE FIVE-STAR AZAMARA JOURNEY®:
A Luxury boutique hotel-styled ship, with
a friendly and sophisticated atmosphere
aboard. As it is a smaller ship it can easily
dock at smaller ports, and is well-suited
to the needs of modern voyagers. You'll
never feel crowded in the comfortable
social spaces of the bars, restaurants,
lounges, Casino and Cabaret. The attentive
staff members are always ready to offer a
complimentary bottled water, soft drink or
fresh towel. Staterooms feature modern
amenities, furnishings, and high quality linen.
One of the greatest features of this ship
is the large number of staterooms with
balconies. There's no greater feeling than
opening your door to the fresh sea air and
the amazing views.
Azamara's friendly ships are an altogether
wonderful place to call your home away
from home!
What's included
• Return London Gatwick to
Nice flights
• 2 nights 4-star B&B Hotel stay
in Nice
• 5 nights More inclusive on
board the Azamara Journey®
• selected transfers
• Practice day tickets
• Race day tickets - stand
ticket type X2 or similar
• Flight tax, Port tax and fees.