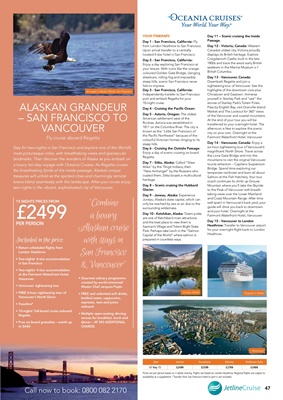 ALASKAN GRANDEUR
- SAN FRANCISCO TO
VANCOUVER
Fly cruise aboard Regatta
Stay for two-nights in San Francisco and explore one of the World's
most picturesque cities, with breathtaking views and spectacular
landmarks. Then discover the wonders of Alaska as you embark on
a luxury ten-day voyage with Oceania Cruises. As Regatta cruises
the breathtaking fjords of the inside passage, Alaska's unique
treasures will unfold as the spirited cities and charmingly remote
towns blend seamlessly with the landscape. After your cruise enjoy
two nights in the vibrant, sophisticated city of Vancouver.
Included in the price:
• Return scheduled flights from
London Heathrow
• two-nights' 4-star accommodation
in san Francisco
• two-nights' 4-star accommodation
at the Fairmont Waterfront Hotel,
Vancouver
• Vancouver sightseeing tour
• FREE 6-hour sightseeing tour of
Vancouver's North shore
• transfers*
• 10-nights' full-board cruise onboard
Regatta
• Free on-board gratuities - worth up
to $440
15 NiGHts PRiCEs FROM
£2499PER PERsON
YOUR ITINERARY:
Day 1 - san Francisco, California: Fly
from London Heathrow to San Francisco.
Upon arrival transfer to a centrally
located 4-star hotel in San Francisco.
Day 2 - san Francisco, California:
Enjoy a day exploring San Francisco at
your leisure. With icons like the orangecoloured
Golden Gate Bridge, clanging
streetcars, rolling fog and impossibly
steep hills, scenic San Francisco never
fails to impress.
Day 3 - san Francisco, California:
Independently transfer to San Francisco
port and embark Regatta for your
10-night cruise.
Day 4 - Cruising the Pacific Ocean:
Day 5 - Astoria, Oregon: The oldest
American settlement west of the
Rockies, Astoria was established in
1811 on the Columbia River. The city is
known as the "Little San Francisco of
the Pacific Northwest" because of the
colourful Victorian homes clinging to its
steep hills.
Day 6 - Cruising the Outside Passage:
Enjoy a day of scenic cruising on board
Regatta.
Day 7 - sitka, Alaska: Called "Shee
Atika" by the Tlingit Indians, then
"New Archangel" by the Russians who
ousted them, Sitka boasts a multicultural
heritage.
Day 8 - scenic cruising the Hubbard
Glacier.
Day 9 - Juneau, Alaska: Experience
Juneau, Alaska's state capital, which can
only be reached by sea or air due to the
surrounding wilderness.
Day 10 - Ketchikan, Alaska: Totem poles
are one of Ketchikan's main attractions
and the best place to view them is
Saxman's Village and Totem Bight State
Park. Perhaps take lunch in the "Salmon
Capital of the World" where salmon is
prepared in countless ways.
Day 11 - scenic cruising the inside
Passage.
Day 12 - Victoria, Canada: Western
Canada's oldest city, Victoria proudly
displays its British heritage. Explore
Craigdarroch Castle, built in the late
1800s and trace the area's early British
seafarers in the Marine Museum o f
British Columbia.
Day 13 - Vancouver, Canada:
Disembark Regatta and join a
sightseeing tour of Vancouver. See the
highlights of the downtown core plus
Chinatown and Gastown. Immerse
yourself in Stanley Park and "see" the
stories of Stanley Park's Totem Poles.
Pass by English Bay, visit Granville Island
Market and The Lookout for 360° views
of the Vancouver and coastal mountains.
At the end of your tour you will be
transferred to your overnight hotel. The
afternoon is free to explore this scenic
city on your own. Overnight at the
Fairmont Waterfront Hotel, Vancouver
Day 14 - Vancouver, Canada: Enjoy a
six-hour sightseeing tour of Vancouver's
magnificent North Shore. Travel across
the Lions Gate Bridge and into the
mountains to visit the original Vancouver
tourist attraction - Capilano Suspension
Bridge. Spend time exploring our
temperate rainforest and learn all about
Salmon at the Fish Hatchery. Your tour
coach continues its climb up Grouse
Mountain where you'll take the Skyride
to the Peak of Vancouver with breathtaking views over the Lower Mainland
and Coast Mountain Range. After time
well spent in Vancouver's back yard, your
guide will drive you back to downtown
and your hotel. Overnight at the
Fairmont Waterfront Hotel, Vancouver
Day 15 - Vancouver to London
Heathrow: Transfer to Vancouver airport
for your overnight flight back to London
Heathrow.
47
Call now to book: 0800 082 2170
An eagle in Alaska. Below: San Francisco
Vancouver
"Combine
a luxury
Alaskan cruise
with stays in
San Francisco
& Vancouver"
Date Interior Oceanview Balcony Penthouse Suite
07 May 15 £2499 £2599 £2799 £3499
Prices are per person based on 2 adults sharing. Flights are based on London Heathrow. Regional flights are subject to
availability at a supplement. *Transfer from San Francisco hotel to port is not included.
• Gourmet culinary programme
created by world-renowned
Master Chef Jacques Pepin.
• FREE and unlimited soft drinks,
bottled water, cappuccino,
expresso, teas and juices
onboard
• Multiple open-seating dinning
venues for breakfast, lunch and
dinner - At NO ADDitiONAL
CHARGE.
Regatta in Alaska
Juneau, Alaska