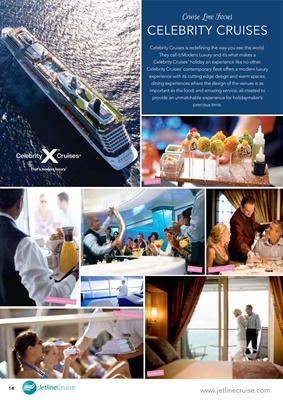 Cruise Line Focus
CELEBRITY CRUISES
Celebrity Cruises is redefining the way you see the world.
They call it Modern Luxury and it's what makes a
Celebrity Cruises' holiday an experience like no other.
Celebrity Cruises' contemporary fleet offers a modern luxury
experience with its cutting edge design and warm spaces;
dining experiences where the design of the venues is as
important as the food; and amazing service, all created to
provide an unmatchable experience for holidaymaker's
precious time.
14
Qisine food
Martini bar Enjoy private dining
A stateroom
Enjoy being pampered
Legendary butler service