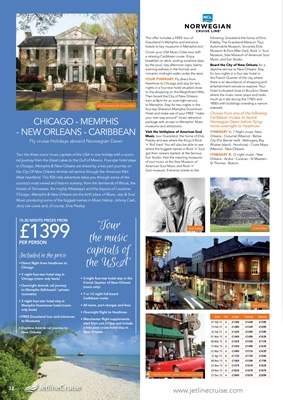 This offer includes a FREE tour of
Graceland in Memphis and entrance
tickets to key museums in Memphis too!
Crown your USA Music Cities tour with
a relaxing Caribbean cruise. Enjoy
breakfast on deck, sizzling sunshine days
by the pool, lazy afternoon naps, balmy
evening wallows in the hot-tub and
romantic midnight walks under the stars.
YOUR ITINERARY: Fly direct from
Heathrow to Chicago and stay for two
nights in a four-star hotel situated close
to the shopping on the Magnificent Mile.
Then board the City of New Orleans
train at 8pm for an overnight service
to Memphis. Stay for two nights in the
four-star Sheraton Memphis Downtown
Hotel and make use of your FREE "make
your own way around" music attraction
package with access to Memphis' Music
museums and attractions.
Visit the birthplace of American Soul
Music, tour Graceland, the home of Elvis
Presley and see where the King of Rock
'n' Roll lived. You will also be able to see
where the biggest names in Rock 'n' Soul
got their careers started, at the famous
Sun Studio. Visit the inspiring museums
of soul music at the Stax Museum of
American Soul Music and Rock 'n'
Soul museum. Entrance tickets to the
CHICAGO - MEMPHIS
- NEW ORLEANS - CARIBBEAN
Fly cruise Holidays aboard Norwegian Dawn
Tour the three iconic music capitals of the USA in one holiday with a scenic
rail journey from the Great Lakes to the Gulf of Mexico. Four-star hotel stays
in Chicago, Memphis & New Orleans are linked by a two part journey on
the City Of New Orleans Amtrak rail service through the American MidWest
heartland. This 926 mile adventure takes you through some of the
country's most varied and historic scenery; from the farmlands of Illinois, the
forests of Tennessee, the mighty Mississippi and the bayous of Louisiana.
Chicago, Memphis & New Orleans are the birth place of Blues, Jazz & Soul
Music producing some of the biggest names in Music history: Johnny Cash,
Jerry Lee Lewis and, of course, Elvis Presley.
following: Graceland the home of Elvis
Presley, The Graceland Mansion Tour,
Automobile Museum, Sincerely Elvis
Museum & Elvis After Dark, Rock 'n' Soul
Museum, Stax Museum of American Soul
Music, and Sun Studio.
Board the City of New Orleans for a
daytime service to New Orleans. Stay
for two nights in a four star hotel in
the French Quarter of the city, where
there is an abundance of shopping and
entertainment venues to explore. Your
hotel is situated close to Bourbon Street
where the music never stops and looks
much as it did during the 1700's and
1800's with buildings crowding a narrow
sidewalk.
Choose from one of the following
Caribbean cruises on board
Norwegian Dawn before flying
home overnight to Heathrow:
ITINERARY A: 7 Night cruise -New
Orleans - Cozumel (Mexico) - Belize
City (For Barrier reef) - Mahogany Bay
(Roatan Island - Honduras) - Costa Maya
(Mexico) - New Orleans.
ITINERARY B: 12 night cruise - New
Orleans - Aruba - Curacao - St Maarten -
St Thomas - Boston.
Included in the price:
• Direct flight from Heathrow to
Chicago
• 2 night four-star hotel stay in
Chicago (room only basis)
• Overnight Amtrak rail journey
to Memphis (full-board / private
roomette)
• 2 night four-star hotel stay in
Memphis Downtown hotel (room
only basis)
• FREE Graceland tour and entrances
to Museums
• Daytime Amtrak rail journey to
New Orleans
15-20 NiGHts PRiCEs FROM
£1399PER PERsON
"Tour
the music
capitals of
the USA"
32
Visit Graceland, the home of Elvis
New Orleans
Visit Sun Studio - where it all began for Elvis
Elvis Presley
• 2 night four-star hotel stay in the
French Quarter of New Orleans
(room only)
• 7 or 12 night full-board
Caribbean cruise
• All taxes, port charges and fees
• Overnight flight to Heathrow
• Manchester flight supplements
start from just £10pp and include
a free post cruise hotel stay in
New Orleans.
Date Itin Inside Outside Balcony
01 Feb 15 A £1399 £1449 £1599
15 Feb 15 A £1489 £1549 £1699
22 Feb 15 A £1429 £1499 £1599
01 Mar 15 A £1449 £1499 £1639
08 Mar 15 A £1529 £1549 £1729
15 Mar 15 A £1459 £1499 £1639
22 Mar 15 A £1489 £1519 £1639
12 Apr 15 B £1729 £1759 £1949
08 Nov 15 A £1569 £1599 £1799
22 Nov 15 A £1579 £1619 £1829
29 Nov 15 A £1639 £1679 £1879
27 Dec 15 A £1849 £1879 £2099
Costa Maya