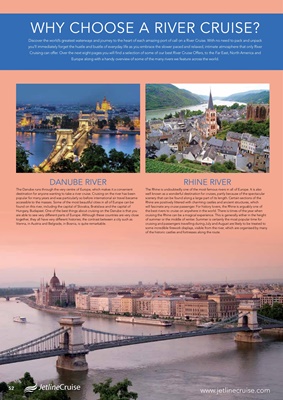 DANUBE RIVER
The Danube runs through the very centre of Europe, which makes it a convenient
destination for anyone wanting to take a river cruise. Cruising on the river has been
popular for many years and was particularly so before international air travel became
accessible to the masses. Some of the most beautiful cities in all of Europe can be
found on this river, including the capital of Slovakia, Bratislava and the capital of
Hungary, Budapest. One of the best things about cruising on the Danube is that you
are able to see very different parts of Europe. Although these countries are very close
together, they all have very different histories; the contrast between a city such as
Vienna, in Austria and Belgrade, in Bosnia, is quite remarkable.
WHY CHOOSE A RIVER CRUISE?
Discover the world's greatest waterways and journey to the heart of each amazing port of call on a River Cruise. With no need to pack and unpack
you'll immediately forget the hustle and bustle of everyday life as you embrace the slower paced and relaxed, intimate atmosphere that only River
Cruising can offer. Over the next eight pages you will find a selection of some of our best River Cruise Offers, to the Far East, North America and
Europe along with a handy overview of some of the many rivers we feature across the world.
RHINE RIVER
The Rhine is undoubtedly one of the most famous rivers in all of Europe. It is also
well known as a wonderful destination for cruises, partly because of the spectacular
scenery that can be found along a large part of its length. Certain sections of the
Rhine are positively littered with charming castles and ancient structures, which
will fascinate any cruise passenger. For history lovers, the Rhine is arguably one of
the best rivers to cruise on anywhere in the world. There is times of the year when
cruising the Rhine can be a magical experience. This is generally either in the height
of summer or the middle of winter. Summer is certainly the most popular time for
cruising and passengers travelling during July and August are likely to be treated to
some incredible firework displays, visible from the river, which are organised by many
of the historic castles and fortresses along the route.
52