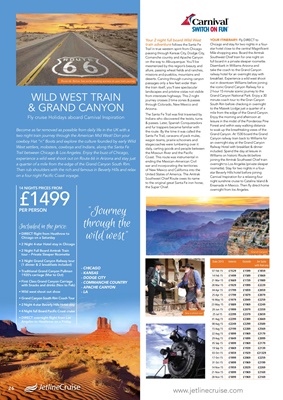 Your 2 night full board Wild West
train adventure follows the Santa Fe
Trail in true western spirit from Chicago
passing through Kansas City, Dodge City,
Comanche country and Apache Canyon
on the way to Albuquerque. You'll be
mesmerized by this region's beauty and
allure, passing wheat fields and ranches,
missions and pueblos, mountains and
deserts. Carving through curving canyon
passages only a few feet wider than
the train itself, you'll see spectacular
landscapes and pristine vistas not visible
from interstate highways. This 2 night
journey crosses 2 time zones & passes
through Colorado, New Mexico and
Arizona.
The Santa Fe Trail was first traversed by
Indians who discovered the twists, turns
& passes. Later, Spanish Conquistadors
and fur trappers became familiar with
the route. By the time it was called the
Santa Fe Trail, caravans of pack mules,
wagon teams, prairie schooners and
stagecoaches were lumbering over it
daily, carting goods and people between
the Missouri River and the Pacific
Coast. This route was instrumental in
ending the Mexican-American Civil
war and incorporating the territories
of New Mexico and California into the
United States of America. The Amtrak
Southwest Chief Route owes its name
to the original great Santa Fe iron horse,
the Super Chief. www.jetlinecruise.com
WILD WEST TRAIN
& GRAND CANYON
Fly cruise Holidays aboard Carnival Inspiration
Become as far removed as possible from daily life in the UK with a
two night train journey through the American Mid West! Don your
cowboy Hat "n" Boots and explore the culture founded by early Wild
West settlers, mobsters, cowboys and Indians, along the Santa Fe
Trail between Chicago & Los Angeles. Enjoy the buzz of Chicago,
experience a wild west shoot out on Route 66 in Arizona and stay just
a quarter of a mile from the edge of the Grand Canyon South Rim.
Then rub shoulders with the rich and famous in Beverly Hills and relax
on a four night Pacific Coast voyage.
YOUR ITINERARY: Fly DIRECT to
Chicago and stay for two nights in a fourstar hotel close to the central Magnificent
Mile shopping area. Board the Amtrak
Southwest Chief train for one night on
full board in a private sleeper roomette.
Disembark in Williams Arizona and
take the coach to the Grand Canyon
railway hotel for an overnight stay with
breakfast. Experience a wild west shoot
out in downtown Williams before joining
the iconic Grand Canyon Railway for a
2 hour 15 minute scenic journey to the
Grand Canyon National Park. Enjoy a 30
minute coach tour to the Gran Canyon
South Rim before checking in overnight
to the Maswik Lodge just a quarter of a
mile from the edge of the Grand Canyon.
Enjoy the morning and afternoon at
leisure in the midst of the Ponderosa Pine
Forest and within easy walking distance
to soak up the breathtaking views of the
Grand Canyon. At 1530 board the Grand
Canyon railway train back to Williams for
an overnight stay at the Grand Canyon
Railway Hotel with breakfast & dinner
included. Spend the day at leisure in
Williams on historic Route 66 before
joining the Amtrak Southwest Chief train
overnight to Los Angeles (private sleeper
roomette). Stay for two nights in a fourstar Beverly Hills hotel before
joining
Carnival Inspiration for a relaxing four
night sunshine cruise to Catalina Island &
Ensenada in Mexico. Then fly direct home
overnight from los Angeles.
Included in the price:
• DiRECt flight from Heathrow to
Chicago on a Saturday
• 2 Night 4-star Hotel stay in Chicago
• 2 Night Full Board Amtrak train
tour - Private Sleeper Roomette
• 3 Night Grand Canyon Railway tour
(1 dinner & 2 breakfasts included)
• traditional Grand Canyon Pullman
1920's carriage (Mar to Oct)
• First Class Grand Canyon Carriage
with Snacks and drinks (Nov to Feb)
• Wild west shoot out show
• Grand Canyon South Rim Coach tour
• 2 Night 4-star Beverly Hills Hotel stay
• 4 Night full Board Pacific Coast cruise
• DiRECt overnight flight from Los
Angeles to Heathrow on a Friday.
14 NIGHTS PRICES FROM
£1499PER PERSON
- CHICAGO
- KANSAS
- DODGE CITY
- COMMANCHE COUNTRY
- APACHE CANYON
- LA
26
Route 66. Below: See some amazing scenery on your train journey
Date 2015 Interior Outside Jnr Suite
with Balcony
07 Feb 15 £1529 £1599 £1859
14 Feb 15 £1499 £1589 £1869
21 Mar 15 £1669 £1739 £1989
28 Mar 15 £1929 £1999 £2229
04 Apr 15 £1799 £1859 £2059
25 Apr 15 £1799 £1879 £2079
16 May 15 £1979 £2049 £2259
23 May 15 £1889 £1969 £2249
20 Jun 15 £1999 £2079 £2359
25 Jul 15 £2299 £2379 £2659
01 Aug 15 £2299 £2389 £2669
08 Aug 15 £2249 £2299 £2589
15 Aug 15 £2199 £2289 £2569
22 Aug 15 £1899 £1969 £2179
29 Aug 15 £1849 £1899 £2099
05 Sep 15 £1899 £1969 £2179
19 Sep 15 £1869 £1939 £2139
03 Oct 15 £1859 £1929 £21329
17 Oct 15 £1999 £2069 £2259
31 Oct 15 £1899 £1969 £2199
14 Nov 15 £1959 £2029 £2269
21 Nov 15 £1899 £1969 £2169
28 Nov 15 £1899 £1969 £2169
See a shoot out
Grand Canyon
"Journey
through the
wild west"