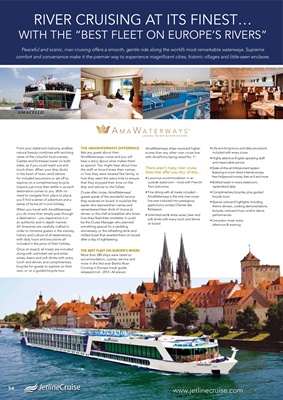 54
RIVER CRUISING AT ITS FINEST…
WITH THE "BEST FLEET ON EUROPE'S RIVERS"
Peaceful and scenic, river cruising offers a smooth, gentle ride along the world's most remarkable waterways. Supreme
comfort and convenience make it the premier way to experience magnificent cities, historic villages and little-seen enclaves.
From your stateroom balcony, endless
natural beauty combines with evolving
views of the colourful local scenery.
Castles and fortresses tower on both
sides, as if you could reach out and
touch them. When your ship docks
in the heart of town, stroll ashore
for included excursions or set off to
explore on a complimentary bicycle.
Unpack just once then settle in as each
destination comes to you. With no
need to navigate from place to place,
you'll find a sense of adventure and a
sense of home all in one holiday.
When you travel with AmaWaterways
you do more than simply pass through
a destination - you experience it in
an authentic and in depth manner.
All itineraries are carefully crafted in
order to immerse guests in the scenery,
history and culture of all destinations,
with daily tours and excursions all
included in the price of their holiday.
Once on board, all meals are included
along with unlimited red and white
wines, beers and soft drinks with every
lunch and dinner, and complimentary
bicycles for guests to explore on their
own, or on a guided bicycle tour.
THE AMAWATERWAYS DIFFERENCE
Ask any guest about their
AmaWaterways cruise and you will
hear a story about what makes them
so special. You might hear about how
the staff on board knew their names,
or how they were treated like family, or
how they went the extra mile to ensure
that they enjoyed their time on the
ship and ashore to the fullest.
Cruise after cruise, AmaWaterways'
guests speak of the wonderful service
they received on board. It could be the
waiter who learned their names and
remembered their drink of choice at
dinner, or the chef at breakfast who knew
how they liked their omelette. It could
be the Cruise Manager who planned
something special for a wedding
anniversary, or the refreshing drink and
chilled towel that awaited them on board
after a day of sightseeing.
THE BEST FLEET ON EUROPE'S RIVERS
More than 280 ships were rated on
accommodation, cuisine, service and
more in the first ever Berlitz River
Cruising in Europe travel guide,
released mid - 2014. All eleven
AmaWaterways ships received higher
scores than any other river cruise line
with AmaPrima being rated No. 1!
There aren't many river cruise
lines that offer you ALL of this…
• Luxurious accommodation in an
outside stateroom - most with French/
Twin balconies
• Fine dining with all meals included -
AmaWaterways is the only river cruise
line ever inducted into prestigious
gastronomy society Chaines des
Rotisseurs
• Unlimited red & white wines, beer and
soft drinks with every lunch and dinner
on board
• Life enriching tours and daily excursions
included with every cruise
• Highly attentive English-speaking staff
and impeccable service
• State-of-the-art Infotainment system
featuring in-room direct internet access,
free Hollywood movies, free wi-fi and more
• Bottled water in every stateroom,
replenished daily
• Complimentary bicycles, plus guided
bicycle tours
• Special onboard highlights including
theme dinners, cooking demonstrations,
lectures, onboard music and/or dance
performances
• Live piano music every
afternoon & evening