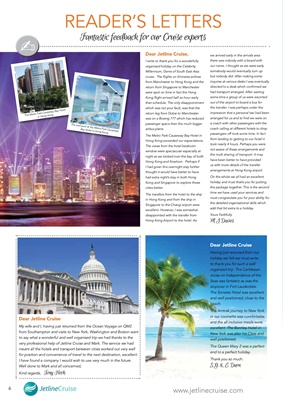 6
READER'S LETTERS
Fantastic feedback for our Cruise experts
Dear Jetline Cruise,
I write to thank you for a wonderfully
organised holiday on the Celebrity
Millennium, Gems of South East Asia
cruise. The flights on Emirates airlines
from Manchester to Hong Kong and the
return from Singapore to Manchester
were spot on time in fact the Hong
Kong flight arrived half an hour early
than schedule. The only disappointment
which was not your fault, was that the
return leg from Dubai to Manchester
was on a Boeing 777 which has reduced
passenger space than the much bigger
airbus plane.
The Metro Park Causeway Bay Hotel in
Hong Kong exceeded our expectations.
The views from the hotel bedroom
window were spectacular especially at
night as we looked over the bay of both
Hong Kong and Kowloon. Perhaps if
I had given this overnight stay further
thought it would have better to have
had extra night's stay in both Hong
Kong and Singapore to explore these
cities better.
The transfers from the hotel to the ship
in Hong Kong and from the ship in
Singapore to the Changi airport were
excellent. However, I was somewhat
disappointed with the transfer from
Hong Kong Airport to the hotel. As
we arrived early in the arrivals area
there was nobody with a board with
our name. I thought as we were early
somebody would eventually turn up
but nobody did. After making some
inquires at various desks I was eventually
directed to a desk which confirmed we
had transport arranged. After waiting
some time a group of us were escorted
out of the airport to board a bus for
the transfer. I was perhaps under the
impression that a personal taxi had been
arranged for us and to find we were on
a coach with other passengers with the
coach calling at different hotels to drop
passengers off took some time. In fact
from landing to getting to our hotel it
took nearly 4 hours. Perhaps you were
not aware of these arrangements and
the multi sharing of transport. It may
have been better to have provided
us with more details of the transfer
arrangements at Hong Kong airport.
On the whole we all had an excellent
holiday and must thank you for putting
the package together. This is the second
time we have used your services and
must congratulate you for your ability for
the detailed organisational skills which
add that bit extra to a holiday.
Yours Faithfully
M J Davies
Dear Jetline Cruise
My wife and I, having just returned from the Ocean Voyage on QM2
from Southampton and visits to New York, Washington and Boston want
to say what a wonderful and well organised trip we had thanks to the
very professional help of Jetline Cruise and Mark. The service we had
meant all the hotels and transport between cities worked out very well
for position and convenience of travel to the next destination, excellent.
I have found a company I would wish to use very much in the future.
Well done to Mark and all concerned,
Kind regards, Tony Hook
Dear Jetline Cruise
Having just returned from our
holiday we felt we must write
to thank you for such a well
organised trip. The Caribbean
cruise on Independence of the
Seas was fantastic as was the
stopover in Fort Lauderdale.
The Sonesta Hotel was excellent
and well positioned, close to the
beach.
The Amtrak journey to New York
in our roomette was comfortable
and the all inclusive meals were
excellent. The Bentley Hotel in
New York was also 1st Class and
well positioned.
The Queen Mary 2 was a perfect
end to a perfect holiday.
Thank you so much.
S.G. & E. Durn
The Metro Park Causeway Bay Hotel
in Hong Kong
The roof pool at the Metro Park Causeway
Bay Hotel in Hong Kong