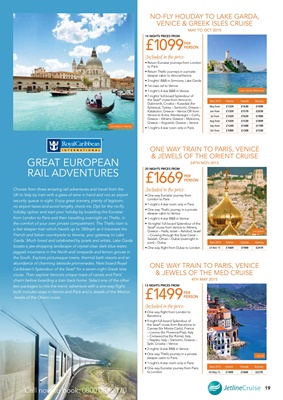 GREAT EUROPEAN
RAIL ADVENTURES
Choose from three amazing rail adventures and travel from the
UK to Italy by train with a glass of wine in hand and not an airport
security queue in sight. Enjoy great scenery, plenty of legroom,
no airport taxes and avoid lengthy check-ins. Opt for the no-fly
holiday option and start your holiday by boarding the Eurostar
from London to Paris and then travelling overnight on Thello, in
the comfort of your own private compartment. The Thello train is
a fast sleeper train which travels up to 180mph as it traverses the
French and Italian countryside to Verona, your gateway to Lake
Garda. Much loved and celebrated by poets and artists, Lake Garda
boasts a jaw-dropping landscape of crystal-clear dark blue water,
jagged mountains in the North and vineyards and lemon groves in
the South. Explore picturesque towns, thermal bath resorts and an
abundance of charming lakeside promenades. Next board Royal
Caribbean's Splendour of the Seas® for a seven-night Greek Isles
cruise. Then explore Venice's unique maze of canals and Paris'
charm before boarding a train back home. Select one of the other
two packages to mix the trains' adventure with a one-way flight;
both includes stays in Venice and Paris and a Jewels of the Med or
Jewels of the Orient cruise.
19
Call now to book: 0800 082 2170
Gondolas in Venice
Included in the price:
• Return Eurostar journeys from London
to Paris
• Return Thello journeys in a private
sleeper cabin to Verona/Venice
• 3-nights' B&B in Sirmione, Lake Garda
• 1st class rail to Venice
• 1-night's 4-star B&B in Venice
• 7-nights' full-board Splendour of
the Seas® cruise from Venice to
Dubrovnik, Croatia - Kusadasi (for
Ephesus), Turkey - Santorini, Greece -
Katakolon, Greece - Venice OR from
Venice to Kotor, Montenegro - Corfu,
Greece - Athens, Greece - Mykonos,
Greece - Argostoli, Greece - Venice
• 1-night's 4-star room only in Paris
14 NIGHTS PRICES FROM
£1099
NO-FLY HOLIDAY TO LAKE GARDA,
VENICE & GREEK ISLES CRUISE
MAY TO OCT 2015
Lake Garda Malcesine
Date 2015 Interior Outside Balcony
May from £1329 £1639 £1999
Jun from £1339 £1579 £2039
Jul from £1429 £1629 £1989
Aug from £1439 £1539 £1809
Sep from £1249 £1489 £1789
Oct from £1099 £1309 £1539
PER
PERSON
Included in the price:
• One way Eurostar journey from
London to Paris
• 1-night's 4-star room only in Paris
• One way Thello journey in a private
sleeper cabin to Venice
• 1-night's 4-star B&B in Venice
• 16-nights' full-board Splendour of the
Seas® cruise from Venice to Athens,
Greece - Haifa, Israel - Ashdod, Israel
- Cruising through the Suez Canal -
Salalah, Oman - Dubai (overnight in
port) - Dubai
• One way flight from Dubai to London
20 NiGHtS PRiCES FROM
£1669
ONE WAY TRAIN TO PARIS, VENICE
& JEWELS OF THE ORIENT CRUISE
24TH NOV 2015
Jerusalem
Date 2015 Interior Outside Balcony
24 Nov 15 £1669 £1969 £2419
PER
PERSON
Included in the price:
• One way flight from London to
Barcelona
• 9-night full-board Splendour of
the Seas® cruise from Barcelona to
Cannes (for Monte Carlo), France
- Livorno (for Florence/Pisa), Italy
- Civitavecchia (for Rome), Italy
- Naples, Italy - Santorini, Greece -
Split, Croatia - Venice
• 2-nights' 4-star B&B in Venice
• One way Thello journey in a private
sleeper cabin to Paris
• 1-night's 4-star room only in Paris
• One way Eurostar journey from Paris
to London
13 NIGHTS PRICES FROM
£1499
ONE WAY TRAIN TO PARIS, VENICE
& JEWELS OF THE MED CRUISE
4TH MAY 2015
Amalfi
Date 2015 Interior Outside Balcony
04 May 15 £1499 £1669 £2279
PER
PERSON