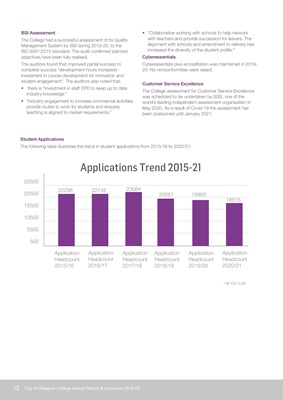 12 City of Glasgow College Annual Report & Accounts 2019-20
BSI Assessment
The College had a successful assessment of its Quality
Management System by BSI during 2019-20, to the
ISO 9001:2015 standard. The audit confirmed planned
objectives have been fully realised.
The auditors found that improved partial success to
complete success "development hours increased -
investment in course development for innovation and
student engagement". The auditors also noted that:
• there is "investment in staff CPD to keep up to date
industry knowledge."
• "industry engagement to increase commercial activities
provide routes to work for students and ensures
teaching is aligned to market requirements."
• "Collaborative working with schools to help network
with teachers and provide succession for leavers. The
alignment with schools and amendment to delivery has
increased the diversity of the student profile."
Cyberessentials
Cyberessentials plus accreditation was maintained in 2019-
20. No nonconformities were raised.
Customer Service Excellence
The College assessment for Customer Service Excellence
was scheduled to be undertaken by SGS, one of the
world's leading independent assessment organisation in
May 2020. As a result of Covid-19 the assessment has
been postponed until January 2021.
25500
20500
15500
10500
5500
500
Applications Trend 2015-21
Application
Headcount
2015/16
Application
Headcount
2016/17
Application
Headcount
2017/18
Application
Headcount
2018/19
Application
Headcount
2019/20
22296 22742 23084
20281 19905
Student Applications
The following table illustrates the trend in student applications from 2015/16 to 2020/21:
Application
Headcount
2020/21
18516
* At 15/11/200