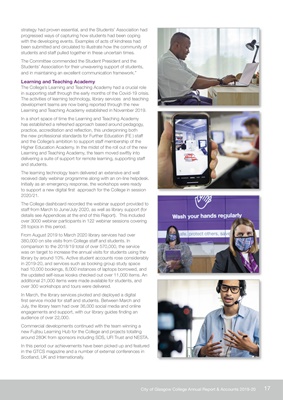 17
strategy had proven essential, and the Students' Association had
progressed ways of capturing how students had been coping
with the developing events. Examples of acts of kindness had
been submitted and circulated to illustrate how the community of
students and staff pulled together in these uncertain times.
The Committee commended the Student President and the
Students' Association for their unwavering support of students,
and in maintaining an excellent communication framework."
Learning and Teaching Academy
The College's Learning and Teaching Academy had a crucial role
in supporting staff through the early months of the Covid-19 crisis.
The activities of learning technology, library services and teaching
development teams are now being reported through the new
Learning and Teaching Academy established in November 2019.
In a short space of time the Learning and Teaching Academy
has established a refreshed approach based around pedagogy,
practice, accreditation and reflection, this underpinning both
the new professional standards for Further Education (FE ) staff
and the College's ambition to support staff membership of the
Higher Education Academy. In the midst of the roll out of the new
Learning and Teaching Academy, the team moved swiftly into
delivering a suite of support for remote learning, supporting staff
and students.
The learning technology team delivered an extensive and well
received daily webinar programme along with an on-line helpdesk.
Initially as an emergency response, the workshops were ready
to support a new digital first approach for the College in session
2020/21.
The College dashboard recorded the webinar support provided to
staff from March to June/July 2020, as well as library support (for
details see Appendices at the end of this Report). This included
over 3000 webinar participants in 122 webinar sessions covering
28 topics in this period.
From August 2019 to March 2020 library services had over
380,000 on site visits from College staff and students. In
comparison to the 2018/19 total of over 570,000, the service
was on target to increase the annual visits for students using the
library by around 10%. Active student accounts rose considerably
in 2019-20, and services such as booking group study space
had 10,000 bookings, 8,000 instances of laptops borrowed, and
the updated self-issue kiosks checked out over 11,000 items. An
additional 21,000 items were made available for students, and
over 300 workshops and tours were delivered.
In March, the library services pivoted and deployed a digital
first service model for staff and students. Between March and
July, the library team had over 36,000 social media and online
engagements and support, with our library guides finding an
audience of over 22,000.
Commercial developments continued with the team winning a
new Fujitsu Learning Hub for the College and projects totalling
around 280K from sponsors including SDS, UFI Trust and NESTA.
In this period our achievements have been picked up and featured
in the GTCS magazine and a number of external conferences in
Scotland, UK and Internationally.
City of Glasgow College Annual Report & Accounts 2019-20