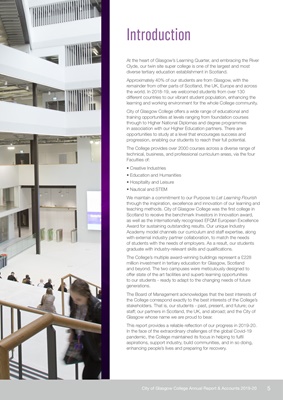 5
City of Glasgow College Annual Report & Accounts 2019-20
Introduction
At the heart of Glasgow's Learning Quarter, and embracing the River
Clyde, our twin site super college is one of the largest and most
diverse tertiary education establishment in Scotland.
Approximately 40% of our students are from Glasgow, with the
remainder from other parts of Scotland, the UK, Europe and across
the world. In 2018-19, we welcomed students from over 130
different countries to our vibrant student population, enhancing the
learning and working environment for the whole College community.
City of Glasgow College offers a wide range of educational and
training opportunities at levels ranging from foundation courses
through to Higher National Diplomas and degree programmes
in association with our Higher Education partners. There are
opportunities to study at a level that encourages success and
progression, enabling our students to reach their full potential.
The College provides over 2000 courses across a diverse range of
technical, business, and professional curriculum areas, via the four
Faculties of:
• Creative Industries
• Education and Humanities
• Hospitality and Leisure
• Nautical and STEM
We maintain a commitment to our Purpose to Let Learning Flourish
through the inspiration, excellence and innovation of our learning and
teaching methods. City of Glasgow College was the first college in
Scotland to receive the benchmark Investors in Innovation award,
as well as the internationally recognised EFQM European Excellence
Award for sustaining outstanding results. Our unique Industry
Academy model channels our curriculum and staff expertise, along
with external industry partner collaboration, to match the needs
of students with the needs of employers. As a result, our students
graduate with industry-relevant skills and qualifications.
The College's multiple award-winning buildings represent a £228
million investment in tertiary education for Glasgow, Scotland
and beyond. The two campuses were meticulously designed to
offer state of the art facilities and superb learning opportunities
to our students - ready to adapt to the changing needs of future
generations.
The Board of Management acknowledges that the best interests of
the College correspond exactly to the best interests of the College's
stakeholders. That is, our students - past, present, and future; our
staff; our partners in Scotland, the UK, and abroad; and the City of
Glasgow whose name we are proud to bear.
This report provides a reliable reflection of our progress in 2019-20.
In the face of the extraordinary challenges of the global Covid-19
pandemic, the College maintained its focus in helping to fulfil
aspirations, support industry, build communities, and in so doing,
enhancing people's lives and preparing for recovery.