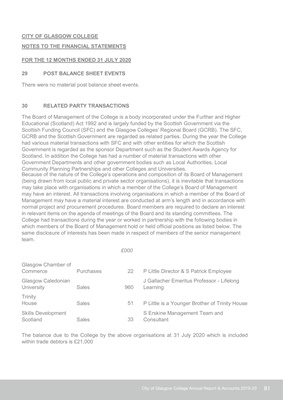 81
City of Glasgow College Annual Report & Accounts 2019-20
CITY OF GLASGOW COLLEGE
NOTES TO THE FINANCIAL STATEMENTS
FOR THE 12 MONTHS ENDED 31 JULY 2020
29 POST BALANCE SHEET EVENTS
30 RELATED PARTY TRANSACTIONS
Trinity
House 51
33
The balance due to the College by the above organisations at 31 July 2020 which is included
within trade debtors is £21,000
P Little Director & S Patrick Employee
Glasgow Caledonian
University Sales 960
J Gallacher Emeritus Professor - Lifelong
Learning
P Little is a Younger Brother of Trinity House
Sales
Sales
S Erskine Management Team and
Consultant
Skills Development
Scotland
There were no material post balance sheet events.
The Board of Management of the College is a body incorporated under the Further and Higher
Educational (Scotland) Act 1992 and is largely funded by the Scottish Government via the
Scottish Funding Council (SFC) and the Glasgow Colleges' Regional Board (GCRB). The SFC,
GCRB and the Scottish Government are regarded as related parties. During the year the College
had various material transactions with SFC and with other entities for which the Scottish
Government is regarded as the sponsor Department such as the Student Awards Agency for
Scotland. In addition the College has had a number of material transactions with other
Government Departments and other government bodies such as Local Authorities, Local
Community Planning Partnerships and other Colleges and Universities.
£000
Glasgow Chamber of
Commerce Purchases 22
Because of the nature of the College's operations and composition of its Board of Management
(being drawn from local public and private sector organisations), it is inevitable that transactions
may take place with organisations in which a member of the College's Board of Management
may have an interest. All transactions involving organisations in which a member of the Board of
Management may have a material interest are conducted at arm's length and in accordance with
normal project and procurement procedures. Board members are required to declare an interest
in relevant items on the agenda of meetings of the Board and its standing committees. The
College had transactions during the year or worked in partnership with the following bodies in
which members of the Board of Management hold or held official positions as listed below. The
same disclosure of interests has been made in respect of members of the senior management
team.