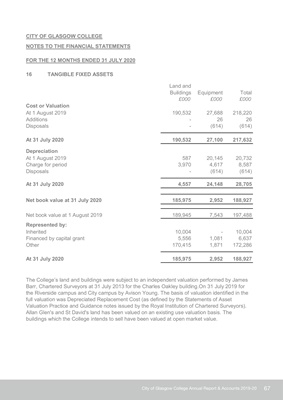 67
City of Glasgow College Annual Report & Accounts 2019-20
CITY OF GLASGOW COLLEGE
NOTES TO THE FINANCIAL STATEMENTS
FOR THE 12 MONTHS ENDED 31 JULY 2020
16 TANGIBLE FIXED ASSETS
Land and
Buildings Equipment Total
£000 £000 £000
Cost or Valuation
At 1 August 2019 190,532 27,688 218,220
Additions - 26 26
Disposals - (614) (614)
At 31 July 2020 190,532 27,100 217,632
Depreciation
At 1 August 2019 587 20,145 20,732
Charge for period 3,970 4,617 8,587
Disposals - (614) (614)
At 31 July 2020 4,557 24,148 28,705
Net book value at 31 July 2020 185,975 2,952 188,927
Net book value at 1 August 2019 189,945 7,543 197,488
Represented by:
Inherited 10,004 - 10,004
Financed by capital grant 5,556 1,081 6,637
Other 170,415 1,871 172,286
At 31 July 2020 185,975 2,952 188,927
The College's land and buildings were subject to an independent valuation performed by James
Barr, Chartered Surveyors at 31 July 2013 for the Charles Oakley building.On 31 July 2019 for
the Riverside campus and City campus by Avison Young. The basis of valuation identified in the
full valuation was Depreciated Replacement Cost (as defined by the Statements of Asset
Valuation Practice and Guidance notes issued by the Royal Institution of Chartered Surveyors).
Allan Glen's and St David's land has been valued on an existing use valuation basis. The
buildings which the College intends to sell have been valued at open market value.