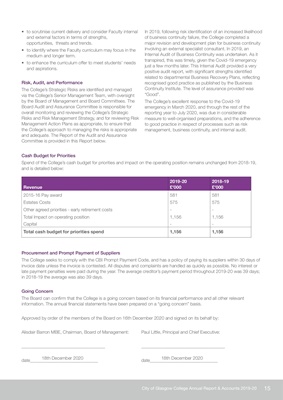 15
City of Glasgow College Annual Report & Accounts 2019-20
• to scrutinise current delivery and consider Faculty internal
and external factors in terms of strengths,
opportunities, threats and trends.
• to identify where the Faculty curriculum may focus in the
medium and longer term.
• to enhance the curriculum offer to meet students' needs
and aspirations.
Risk, Audit, and Performance
The College's Strategic Risks are identified and managed
via the College's Senior Management Team, with oversight
by the Board of Management and Board Committees. The
Board Audit and Assurance Committee is responsible for
overall monitoring and reviewing the College's Strategic
Risks and Risk Management Strategy, and for reviewing Risk
Management Action Plans as appropriate, to ensure that
the College's approach to managing the risks is appropriate
and adequate. The Report of the Audit and Assurance
Committee is provided in this Report below.
In 2019, following risk identification of an increased likelihood
of business continuity failure, the College completed a
major revision and development plan for business continuity
involving an external specialist consultant. In 2019, an
Internal Audit of Business Continuity was undertaken. As it
transpired, this was timely, given the Covid-19 emergency
just a few months later. This Internal Audit provided a very
positive audit report, with significant strengths identified
related to departmental Business Recovery Plans, reflecting
recognised good practice as published by the Business
Continuity Institute. The level of assurance provided was
"Good".
The College's excellent response to the Covid-19
emergency in March 2020, and through the rest of the
reporting year to July 2020, was due in considerable
measure to well-organised preparations, and the adherence
to good practice in respect of processes such as risk
management, business continuity, and internal audit.
Cash Budget for Priorities
Spend of the College's cash budget for priorities and impact on the operating position remains unchanged from 2018-19,
and is detailed below:
Procurement and Prompt Payment of Suppliers
The College seeks to comply with the CBI Prompt Payment Code, and has a policy of paying its suppliers within 30 days of
invoice date unless the invoice is contested. All disputes and complaints are handled as quickly as possible. No interest or
late payment penalties were paid during the year. The average creditor's payment period throughout 2019-20 was 39 days;
in 2018-19 the average was also 39 days.
Going Concern
The Board can confirm that the College is a going concern based on its financial performance and all other relevant
information. The annual financial statements have been prepared on a "going concern" basis.
Approved by order of the members of the Board on 16th December 2020 and signed on its behalf by:
Alisdair Barron MBE, Chairman, Board of Management: Paul Little, Principal and Chief Executive:
_____________________________________ _____________________________________
date______________________________ date______________________________
Revenue
2019-20
£'000
2018-19
£'000
2015-16 Pay award 581 581
Estates Costs 575 575
Other agreed priorities - early retirement costs - Total
Impact on operating position 1,156 1,156
Capital - -
Total cash budget for priorities spend 1,156 1,156
18th December 2020 18th December 2020