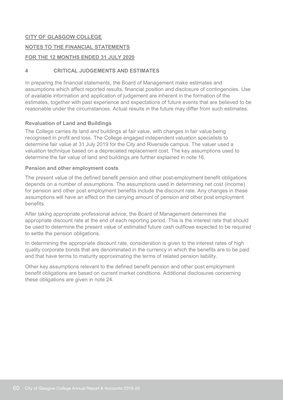 60 City of Glasgow College Annual Report & Accounts 2019-20
CITY OF GLASGOW COLLEGE
NOTES TO THE FINANCIAL STATEMENTS
FOR THE 12 MONTHS ENDED 31 JULY 2020
4 CRITICAL JUDGEMENTS AND ESTIMATES
Revaluation of Land and Buildings
Pension and other employment costs
In determining the appropriate discount rate, consideration is given to the interest rates of high
quality corporate bonds that are denominated in the currency in which the benefits are to be paid
and that have terms to maturity approximating the terms of related pension liability.
Other key assumptions relevant to the defined benefit pension and other post employment
benefit obligations are based on current market conditions. Additional disclosures concerning
these obligations are given in note 24.
In preparing the financial statements, the Board of Management make estimates and
assumptions which affect reported results, financial position and disclosure of contingencies. Use
of available information and application of judgement are inherent in the formation of the
estimates, together with past experience and expectations of future events that are believed to be
reasonable under the circumstances. Actual results in the future may differ from such estimates.
The College carries its land and buildings at fair value, with changes in fair value being
recognised in profit and loss. The College engaged independent valuation specialists to
determine fair value at 31 July 2019 for the City and Riverside campus. The valuer used a
valuation technique based on a depreciated replacement cost. The key assumptions used to
determine the fair value of land and buildings are further explained in note 16.
The present value of the defined benefit pension and other post-employment benefit obligations
depends on a number of assumptions. The assumptions used in determining net cost (income)
for pension and other post employment benefits include the discount rate. Any changes in these
assumptions will have an effect on the carrying amount of pension and other post employment
benefits.
After taking appropriate professional advice, the Board of Management determines the
appropriate discount rate at the end of each reporting period. This is the interest rate that should
be used to determine the present value of estimated future cash outflows expected to be required
to settle the pension obligations.