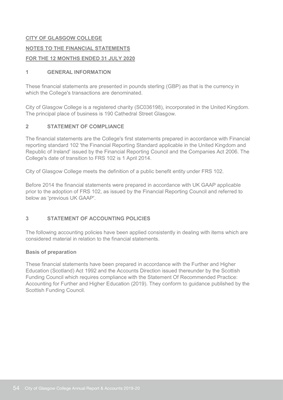 54 City of Glasgow College Annual Report & Accounts 2019-20
CITY OF GLASGOW COLLEGE
NOTES TO THE FINANCIAL STATEMENTS
FOR THE 12 MONTHS ENDED 31 JULY 2020
1 GENERAL INFORMATION
2 STATEMENT OF COMPLIANCE
3 STATEMENT OF ACCOUNTING POLICIES
Basis of preparation
The following accounting policies have been applied consistently in dealing with items which are
considered material in relation to the financial statements.
These financial statements have been prepared in accordance with the Further and Higher
Education (Scotland) Act 1992 and the Accounts Direction issued thereunder by the Scottish
Funding Council which requires compliance with the Statement Of Recommended Practice:
Accounting for Further and Higher Education (2019). They conform to guidance published by the
Scottish Funding Council.
These financial statements are presented in pounds sterling (GBP) as that is the currency in
which the College's transactions are denominated.
City of Glasgow College is a registered charity (SC036198), incorporated in the United Kingdom.
The principal place of business is 190 Cathedral Street Glasgow.
The financial statements are the College's first statements prepared in accordance with Financial
reporting standard 102 'the Financial Reporting Standard applicable in the United Kingdom and
Republic of Ireland' issued by the Financial Reporting Council and the Companies Act 2006. The
College's date of transition to FRS 102 is 1 April 2014.
City of Glasgow College meets the definition of a public benefit entity under FRS 102.
Before 2014 the financial statements were prepared in accordance with UK GAAP applicable
prior to the adoption of FRS 102, as issued by the Financial Reporting Council and referred to
below as 'previous UK GAAP'.