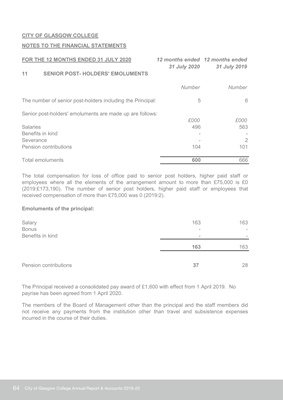 64 City of Glasgow College Annual Report & Accounts 2019-20
CITY OF GLASGOW COLLEGE
NOTES TO THE FINANCIAL STATEMENTS
FOR THE 12 MONTHS ENDED 31 JULY 2020 12 months ended 12 months ended
31 July 2020 31 July 2019
11 SENIOR POST- HOLDERS' EMOLUMENTS
Number Number
The number of senior post-holders including the Principal: 5 6
Senior post-holders' emoluments are made up are follows:
£000 £000
Salaries 496 563
Benefits in kind - Severance
- 2
Pension contributions 104 101
Total emoluments 600 666
Emoluments of the principal:
Salary 163 163
Bonus - Benefits
in kind - 163
163
Pension contributions 37
28
The members of the Board of Management other than the principal and the staff members did
not receive any payments from the institution other than travel and subsistence expenses
incurred in the course of their duties.
The Principal received a consolidated pay award of £1,600 with effect from 1 April 2019. No
payrise has been agreed from 1 April 2020.
The total compensation for loss of office paid to senior post holders, higher paid staff or
employees where all the elements of the arrangement amount to more than £75,000 is £0
(2019:£173,190). The number of senior post holders, higher paid staff or employees that
received compensation of more than £75,000 was 0 (2019:2).