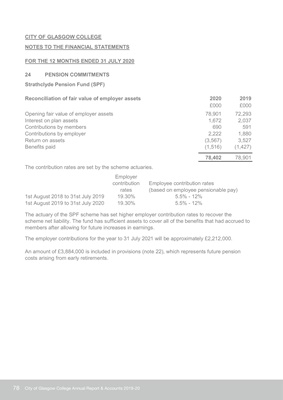 78 City of Glasgow College Annual Report & Accounts 2019-20
CITY OF GLASGOW COLLEGE
NOTES TO THE FINANCIAL STATEMENTS
FOR THE 12 MONTHS ENDED 31 JULY 2020
24 PENSION COMMITMENTS
Strathclyde Pension Fund (SPF)
Reconciliation of fair value of employer assets 2020 2019
£000 £000
Opening fair value of employer assets 78,901 72,293
Interest on plan assets 1,672 2,037
Contributions by members 690 591
Contributions by employer 2,222 1,880
Return on assets (3,567) 3,527
Benefits paid (1,516) (1,427)
78,402 78,901
1st August 2018 to 31st July 2019 5.5% - 12%
1st August 2019 to 31st July 2020 5.5% - 12%
The actuary of the SPF scheme has set higher employer contribution rates to recover the
scheme net liability. The fund has sufficient assets to cover all of the benefits that had accrued to
members after allowing for future increases in earnings.
An amount of £3,884,000 is included in provisions (note 22), which represents future pension
costs arising from early retirements.
The contribution rates are set by the scheme actuaries.
Employer
contribution
19.30%
19.30%
rates
The employer contributions for the year to 31 July 2021 will be approximately £2,212,000.
Employee contribution rates
(based on employee pensionable pay)