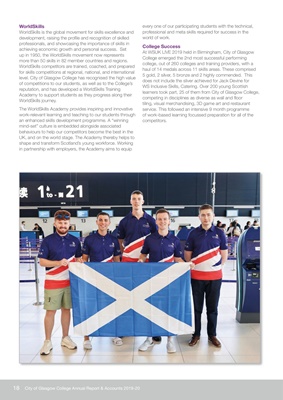 18 City of Glasgow College Annual Report & Accounts 2019-20
WorldSkills
WorldSkills is the global movement for skills excellence and
development, raising the profile and recognition of skilled
professionals, and showcasing the importance of skills in
achieving economic growth and personal success. Set
up in 1950, the WorldSkills movement now represents
more than 50 skills in 82 member countries and regions.
WorldSkills competitors are trained, coached, and prepared
for skills competitions at regional, national, and international
level. City of Glasgow College has recognised the high value
of competitions to our students, as well as to the College's
reputation, and has developed a WorldSkills Training
Academy to support students as they progress along their
WorldSkills journey.
The WorldSkills Academy provides inspiring and innovative
work-relevant learning and teaching to our students through
an enhanced skills development programme. A "winning
mind-set" culture is embedded alongside associated
behaviours to help our competitors become the best in the
UK, and on the world stage. The Academy thereby helps to
shape and transform Scotland's young workforce. Working
in partnership with employers, the Academy aims to equip
every one of our participating students with the technical,
professional and meta skills required for success in the
world of work.
College Success
At WSUK LIVE 2019 held in Birmingham, City of Glasgow
College emerged the 2nd most successful performing
college, out of 260 colleges and training providers, with a
haul of 14 medals across 11 skills areas. These comprised
5 gold, 2 silver, 5 bronze and 2 highly commended. This
does not include the sliver achieved for Jack Devine for
WS Inclusive Skills, Catering. Over 200 young Scottish
learners took part, 25 of them from City of Glasgow College,
competing in disciplines as diverse as wall and floor
tiling, visual merchandising, 3D game art and restaurant
service. This followed an intensive 9 month programme
of work-based learning focussed preparation for all of the
competitors.