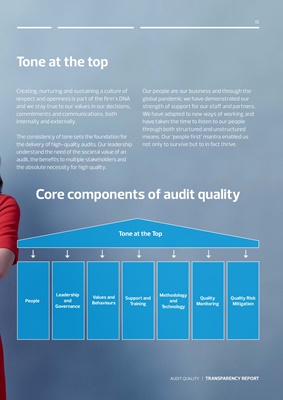 | TRANSPARENCY REPORT
15
Core components of audit quality
Leadership
and
Governance
Values and
Behaviours
Support and
Training
Methodology
and
Technology
People
Quality
Monitoring
Quality Risk
Mitigation
Tone at the Top
AUDIT QUALITY
15
| TRANSPARENCY REPORT
Tone at the top
Creating, nurturing and sustaining a culture of
respect and openness is part of the firm's DNA
and we stay true to our values in our decisions,
commitments and communications, both
internally and externally.
The consistency of tone sets the foundation for
the delivery of high-quality audits. Our leadership
understand the need of the societal value of an
audit, the benefits to multiple stakeholders and
the absolute necessity for high quality.
Our people are our business and through the
global pandemic we have demonstrated our
strength of support for our staff and partners.
We have adapted to new ways of working and
have taken the time to listen to our people
through both structured and unstructured
means. Our 'people first' mantra enabled us
not only to survive but to in fact thrive.