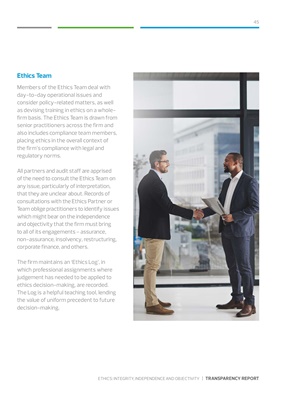 | TRANSPARENCY REPORT
45
ETHICS: INTEGRITY, INDEPENDENCE AND OBJECTIVITY
Ethics Team
Members of the Ethics Team deal with
day-to-day operational issues and
consider policy-related matters, as well
as devising training in ethics on a wholefirm basis. The Ethics Team
is drawn from
senior practitioners across the firm and
also includes compliance team members,
placing ethics in the overall context of
the firm's compliance with legal and
regulatory norms.
All partners and audit staff are apprised
of the need to consult the Ethics Team on
any issue, particularly of interpretation,
that they are unclear about. Records of
consultations with the Ethics Partner or
Team oblige practitioners to identify issues
which might bear on the independence
and objectivity that the firm must bring
to all of its engagements - assurance,
non-assurance, insolvency, restructuring,
corporate finance, and others.
The firm maintains an 'Ethics Log', in
which professional assignments where
judgement has needed to be applied to
ethics decision-making, are recorded.
The Log is a helpful teaching tool, lending
the value of uniform precedent to future
decision-making.