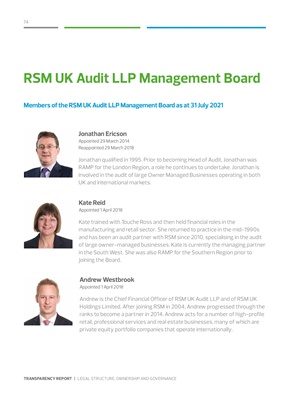 74
TRANSPARENCY REPORT |
RSM UK Audit LLP Management Board
Members of the RSM UK Audit LLP Management Board as at 31 July 2021
Jonathan Ericson
Appointed 29 March 2014
Reappointed 29 March 2018
Jonathan qualified in 1995. Prior to becoming Head of Audit, Jonathan was
RAMP for the London Region, a role he continues to undertake. Jonathan is
involved in the audit of large Owner Managed Businesses operating in both
UK and international markets.
Kate Reid
Appointed 1 April 2018
Kate trained with Touche Ross and then held financial roles in the
manufacturing and retail sector. She returned to practice in the mid-1990s
and has been an audit partner with RSM since 2010, specialising in the audit
of large owner-managed businesses. Kate is currently the managing partner
in the South West. She was also RAMP for the Southern Region prior to
joining the Board.
Andrew Westbrook
Appointed 1 April 2018
Andrew is the Chief Financial Officer of RSM UK Audit LLP and of RSM UK
Holdings Limited. After joining RSM in 2004, Andrew progressed through the
ranks to become a partner in 2014. Andrew acts for a number of high-profile
retail, professional services and real estate businesses, many of which are
private equity portfolio companies that operate internationally.
LEGAL STRUCTURE, OWNERSHIP AND GOVERNANCE