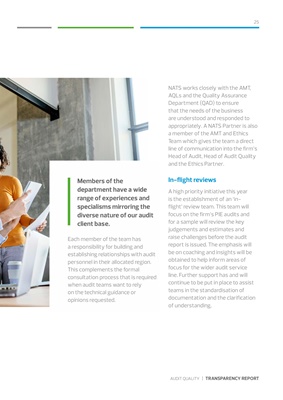 | TRANSPARENCY REPORT
25
Members of the
department have a wide
range of experiences and
specialisms mirroring the
diverse nature of our audit
client base.
Each member of the team has
a responsibility for building and
establishing relationships with audit
personnel in their allocated region.
This complements the formal
consultation process that is required
when audit teams want to rely
on the technical guidance or
opinions requested.
NATS works closely with the AMT,
AQLs and the Quality Assurance
Department (QAD) to ensure
that the needs of the business
are understood and responded to
appropriately. A NATS Partner is also
a member of the AMT and Ethics
Team which gives the team a direct
line of communication into the firm's
Head of Audit, Head of Audit Quality
and the Ethics Partner.
In-flight reviews
A high priority initiative this year
is the establishment of an 'inflight' review
team. This team will
focus on the firm's PIE audits and
for a sample will review the key
judgements and estimates and
raise challenges before the audit
report is issued. The emphasis will
be on coaching and insights will be
obtained to help inform areas of
focus for the wider audit service
line. Further support has and will
continue to be put in place to assist
teams in the standardisation of
documentation and the clarification
of understanding.
AUDIT QUALITY