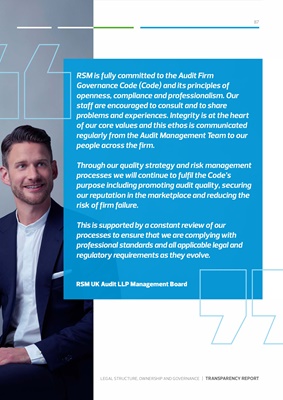 | TRANSPARENCY REPORT
87
LEGAL STRUCTURE, OWNERSHIP AND GOVERNANCE
RSM is fully committed to the Audit Firm
Governance Code (Code) and its principles of
openness, compliance and professionalism. Our
staff are encouraged to consult and to share
problems and experiences. Integrity is at the heart
of our core values and this ethos is communicated
regularly from the Audit Management Team to our
people across the firm.
Through our quality strategy and risk management
processes we will continue to fulfil the Code's
purpose including promoting audit quality, securing
our reputation in the marketplace and reducing the
risk of firm failure.
This is supported by a constant review of our
processes to ensure that we are complying with
professional standards and all applicable legal and
regulatory requirements as they evolve.
RSM UK Audit LLP Management Board
| TRANSPARENCY REPORT
87