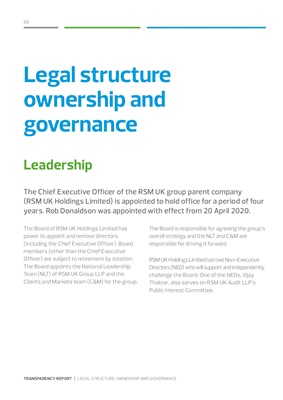 66
TRANSPARENCY REPORT |
Legal structure
ownership and
governance
Leadership
The Chief Executive Officer of the RSM UK group parent company
(RSM UK Holdings Limited) is appointed to hold office for a period of four
years. Rob Donaldson was appointed with effect from 20 April 2020.
The Board of RSM UK Holdings Limited has
power to appoint and remove directors
(including the Chief Executive Officer). Board
members (other than the Chief Executive
Officer) are subject to retirement by rotation.
The Board appoints the National Leadership
Team (NLT) of RSM UK Group LLP and the
Clients and Markets team (C&M) for the group.
The Board is responsible for agreeing the group's
overall strategy and the NLT and C&M are
responsible for driving it forward.
RSM UK Holdings Limited has two Non-Executive
Directors (NED) who will support and independently
challenge the Board. One of the NEDs, Vijay
Thakrar, also serves on RSM UK Audit LLP's
Public Interest Committee.
LEGAL STRUCTURE, OWNERSHIP AND GOVERNANCE