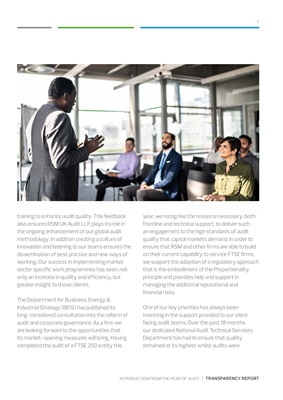 | TRANSPARENCY REPORT
7
INTRODUCTION FROM THE HEAD OF AUDIT
training to enhance audit quality. This feedback
also ensures RSM UK Audit LLP plays its role in
the ongoing enhancement of our global audit
methodology. In addition creating a culture of
innovation and listening to our teams ensures the
dissemination of best practice and new ways of
working. Our success in implementing market
sector specific work programmes has seen, not
only an increase in quality and efficiency, but
greater insight to those clients.
The Department for Business, Energy &
Industrial Strategy (BEIS) has published its
long-considered consultation into the reform of
audit and corporate governance. As a firm we
are looking forward to the opportunities that
its market-opening measures will bring. Having
completed the audit of a FTSE 250 entity this
year, we recognise the resource necessary, both
frontline and technical support, to deliver such
an engagement to the high standards of audit
quality that capital markets demand. In order to
ensure that RSM and other firms are able to build
on their current capability to service FTSE firms,
we support the adoption of a regulatory approach
that is the embodiment of the Proportionality
principle and provides help and support in
managing the additional reputational and
financial risks.
One of our key priorities has always been
investing in the support provided to our client
facing audit teams. Over the past 18 months
our dedicated National Audit Technical Services
Department has had to ensure that quality
remained at its highest whilst audits were