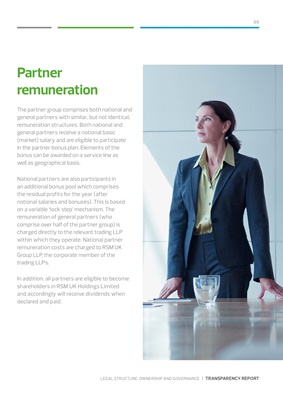 | TRANSPARENCY REPORT
89
Partner
remuneration
The partner group comprises both national and
general partners with similar, but not identical,
remuneration structures. Both national and
general partners receive a notional basic
(market) salary and are eligible to participate
in the partner bonus plan. Elements of the
bonus can be awarded on a service line as
well as geographical basis.
National partners are also participants in
an additional bonus pool which comprises
the residual profits for the year (after
notional salaries and bonuses). This is based
on a variable 'lock step' mechanism. The
remuneration of general partners (who
comprise over half of the partner group) is
charged directly to the relevant trading LLP
within which they operate. National partner
remuneration costs are charged to RSM UK
Group LLP, the corporate member of the
trading LLPs.
In addition, all partners are eligible to become
shareholders in RSM UK Holdings Limited
and accordingly will receive dividends when
declared and paid.
LEGAL STRUCTURE, OWNERSHIP AND GOVERNANCE