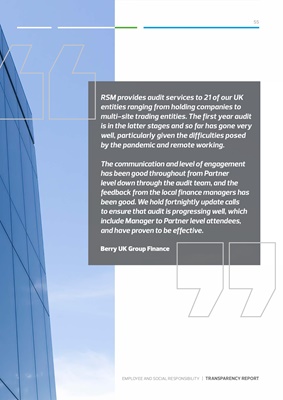 | TRANSPARENCY REPORT
55
RSM provides audit services to 21 of our UK
entities ranging from holding companies to
multi-site trading entities. The first year audit
is in the latter stages and so far has gone very
well, particularly given the difficulties posed
by the pandemic and remote working.
The communication and level of engagement
has been good throughout from Partner
level down through the audit team, and the
feedback from the local finance managers has
been good. We hold fortnightly update calls
to ensure that audit is progressing well, which
include Manager to Partner level attendees,
and have proven to be effective.
Berry UK Group Finance
EMPLOYEE AND SOCIAL RESPONSIBILITY | TRANSPARENCY REPORT
55