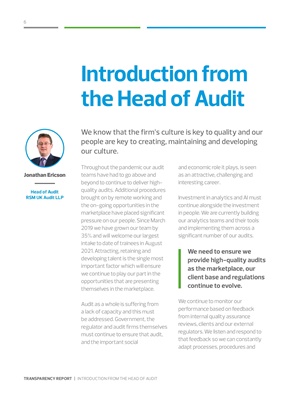 6
TRANSPARENCY REPORT | INTRODUCTION FROM THE HEAD OF AUDIT
Introduction from
the Head of Audit
We know that the firm's culture is key to quality and our
people are key to creating, maintaining and developing
our culture.
Throughout the pandemic our audit
teams have had to go above and
beyond to continue to deliver highquality audits. Additional
procedures
brought on by remote working and
the on-going opportunities in the
marketplace have placed significant
pressure on our people. Since March
2019 we have grown our team by
35% and will welcome our largest
intake to date of trainees in August
2021. Attracting, retaining and
developing talent is the single most
important factor which will ensure
we continue to play our part in the
opportunities that are presenting
themselves in the marketplace.
Audit as a whole is suffering from
a lack of capacity and this must
be addressed. Government, the
regulator and audit firms themselves
must continue to ensure that audit,
and the important social
and economic role it plays, is seen
as an attractive, challenging and
interesting career.
Investment in analytics and AI must
continue alongside the investment
in people. We are currently building
our analytics teams and their tools
and implementing them across a
significant number of our audits.
We need to ensure we
provide high-quality audits
as the marketplace, our
client base and regulations
continue to evolve.
We continue to monitor our
performance based on feedback
from internal quality assurance
reviews, clients and our external
regulators. We listen and respond to
that feedback so we can constantly
adapt processes, procedures and
Jonathan Ericson
Head of Audit
RSM UK Audit LLP