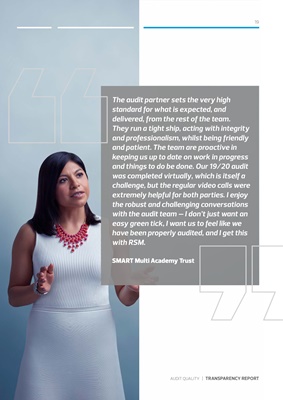 | TRANSPARENCY REPORT
19
The audit partner sets the very high
standard for what is expected, and
delivered, from the rest of the team.
They run a tight ship, acting with integrity
and professionalism, whilst being friendly
and patient. The team are proactive in
keeping us up to date on work in progress
and things to do be done. Our 19/20 audit
was completed virtually, which is itself a
challenge, but the regular video calls were
extremely helpful for both parties. I enjoy
the robust and challenging conversations
with the audit team - I don't just want an
easy green tick, I want us to feel like we
have been properly audited, and I get this
with RSM.
SMART Multi Academy Trust
| TRANSPARENCY REPORT
19
AUDIT QUALITY