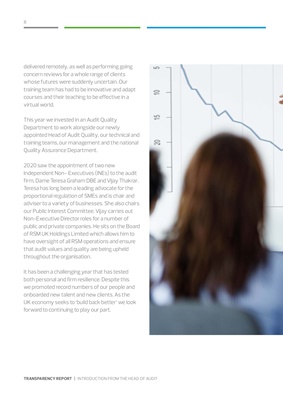 8
TRANSPARENCY REPORT |
delivered remotely, as well as performing going
concern reviews for a whole range of clients
whose futures were suddenly uncertain. Our
training team has had to be innovative and adapt
courses and their teaching to be effective in a
virtual world.
This year we invested in an Audit Quality
Department to work alongside our newly
appointed Head of Audit Quality, our technical and
training teams, our management and the national
Quality Assurance Department.
2020 saw the appointment of two new
Independent Non- Executives (INEs) to the audit
firm, Dame Teresa Graham DBE and Vijay Thakrar.
Teresa has long been a leading advocate for the
proportional regulation of SMEs and is chair and
adviser to a variety of businesses. She also chairs
our Public Interest Committee. Vijay carries out
Non-Executive Director roles for a number of
public and private companies. He sits on the Board
of RSM UK Holdings Limited which allows him to
have oversight of all RSM operations and ensure
that audit values and quality are being upheld
throughout the organisation.
It has been a challenging year that has tested
both personal and firm resilience. Despite this
we promoted record numbers of our people and
onboarded new talent and new clients. As the
UK economy seeks to 'build back better' we look
forward to continuing to play our part.
INTRODUCTION FROM THE HEAD OF AUDIT