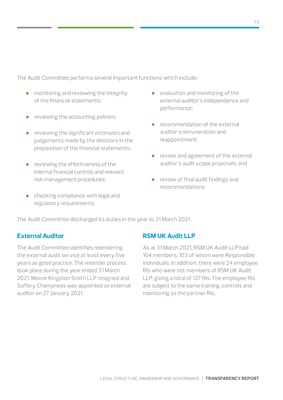 | TRANSPARENCY REPORT
73
The Audit Committee performs several important functions which include:
● monitoring and reviewing the integrity
of the financial statements;
● reviewing the accounting policies;
● reviewing the significant estimates and
judgements made by the directors in the
preparation of the financial statements;
● reviewing the effectiveness of the
internal financial controls and relevant
risk management procedures;
● checking compliance with legal and
regulatory requirements;
● evaluation and monitoring of the
external auditor's independence and
performance;
● recommendation of the external
auditor's remuneration and
reappointment;
● review and agreement of the external
auditor's audit scope proposals; and
● review of final audit findings and
recommendations.
The Audit Committee discharged its duties in the year to 31 March 2021.
External Auditor
The Audit Committee identifies retendering
the external audit service at least every five
years as good practice. The retender process
took place during the year ended 31 March
2021. Moore Kingston Smith LLP resigned and
Saffery Champness was appointed as external
auditor on 27 January 2021.
RSM UK Audit LLP
As at 31 March 2021, RSM UK Audit LLP had
104 members, 103 of whom were Responsible
Individuals. In addition, there were 24 employee
RIs who were not members of RSM UK Audit
LLP, giving a total of 127 RIs. The employee RIs
are subject to the same training, controls and
monitoring as the partner RIs.
LEGAL STRUCTURE, OWNERSHIP AND GOVERNANCE