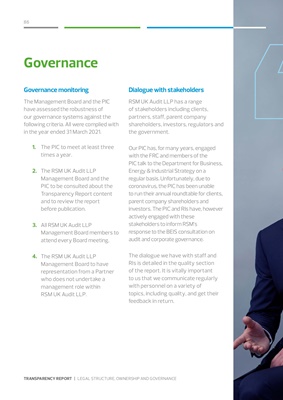 86
TRANSPARENCY REPORT | LEGAL STRUCTURE, OWNERSHIP AND GOVERNANCE
Governance
Governance monitoring
The Management Board and the PIC
have assessed the robustness of
our governance systems against the
following criteria. All were complied with
in the year ended 31 March 2021.
1. The PIC to meet at least three
times a year.
2. The RSM UK Audit LLP
Management Board and the
PIC to be consulted about the
Transparency Report content
and to review the report
before publication.
3. All RSM UK Audit LLP
Management Board members to
attend every Board meeting.
4. The RSM UK Audit LLP
Management Board to have
representation from a Partner
who does not undertake a
management role within
RSM UK Audit LLP.
Dialogue with stakeholders
RSM UK Audit LLP has a range
of stakeholders including clients,
partners, staff, parent company
shareholders, investors, regulators and
the government.
Our PIC has, for many years, engaged
with the FRC and members of the
PIC talk to the Department for Business,
Energy & Industrial Strategy on a
regular basis. Unfortunately, due to
coronavirus, the PIC has been unable
to run their annual roundtable for clients,
parent company shareholders and
investors. The PIC and RIs have, however
actively engaged with these
stakeholders to inform RSM's
response to the BEIS consultation on
audit and corporate governance.
The dialogue we have with staff and
RIs is detailed in the quality section
of the report. It is vitally important
to us that we communicate regularly
with personnel on a variety of
topics, including quality, and get their
feedback in return.