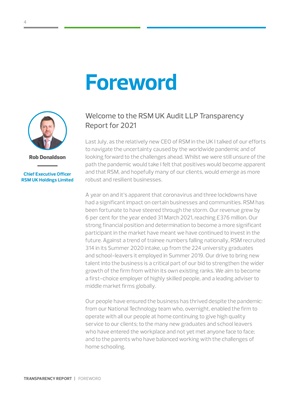 4
TRANSPARENCY REPORT | FOREWORD
Foreword
Welcome to the RSM UK Audit LLP Transparency
Report for 2021
Last July, as the relatively new CEO of RSM in the UK I talked of our efforts
to navigate the uncertainty caused by the worldwide pandemic and of
looking forward to the challenges ahead. Whilst we were still unsure of the
path the pandemic would take I felt that positives would become apparent
and that RSM, and hopefully many of our clients, would emerge as more
robust and resilient businesses.
A year on and it's apparent that coronavirus and three lockdowns have
had a significant impact on certain businesses and communities. RSM has
been fortunate to have steered through the storm. Our revenue grew by
6 per cent for the year ended 31 March 2021, reaching £376 million. Our
strong financial position and determination to become a more significant
participant in the market have meant we have continued to invest in the
future. Against a trend of trainee numbers falling nationally, RSM recruited
314 in its summer 2020 intake, up from the 224 university graduates
and school-leavers it employed in summer 2019. Our drive to bring new
talent into the business is a critical part of our bid to strengthen the wider
growth of the firm from within its own existing ranks. We aim to become
a first-choice employer of highly skilled people, and a leading adviser to
middle market firms globally.
Our people have ensured the business has thrived despite the pandemic:
from our National Technology team who, overnight, enabled the firm to
operate with all our people at home continuing to give high quality
service to our clients; to the many new graduates and school leavers
who have entered the workplace and not yet met anyone face to face;
and to the parents who have balanced working with the challenges of
home schooling.
Rob Donaldson
Chief Executive Officer
RSM UK Holdings Limited