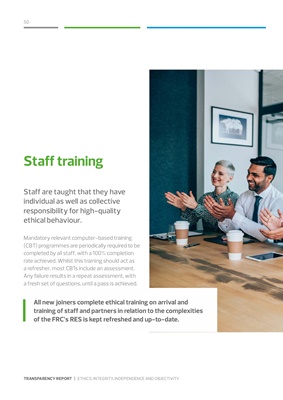 50
TRANSPARENCY REPORT | ETHICS: INTEGRITY, INDEPENDENCE AND OBJECTIVITY
Staff training
Staff are taught that they have
individual as well as collective
responsibility for high-quality
ethical behaviour.
Mandatory relevant computer-based training
(CBT) programmes are periodically required to be
completed by all staff, with a 100% completion
rate achieved. Whilst this training should act as
a refresher, most CBTs include an assessment.
Any failure results in a repeat assessment, with
a fresh set of questions, until a pass is achieved.
All new joiners complete ethical training on arrival and
training of staff and partners in relation to the complexities
of the FRC's RES is kept refreshed and up-to-date.