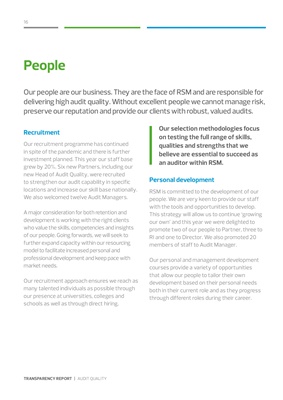 16
TRANSPARENCY REPORT | AUDIT QUALITY
People
Our people are our business. They are the face of RSM and are responsible for
delivering high audit quality. Without excellent people we cannot manage risk,
preserve our reputation and provide our clients with robust, valued audits.
Recruitment
Our recruitment programme has continued
in spite of the pandemic and there is further
investment planned. This year our staff base
grew by 20%. Six new Partners, including our
new Head of Audit Quality, were recruited
to strengthen our audit capability in specific
locations and increase our skill base nationally.
We also welcomed twelve Audit Managers.
A major consideration for both retention and
development is working with the right clients
who value the skills, competencies and insights
of our people. Going forwards, we will seek to
further expand capacity within our resourcing
model to facilitate increased personal and
professional development and keep pace with
market needs.
Our recruitment approach ensures we reach as
many talented individuals as possible through
our presence at universities, colleges and
schools as well as through direct hiring.
Our selection methodologies focus
on testing the full range of skills,
qualities and strengths that we
believe are essential to succeed as
an auditor within RSM.
Personal development
RSM is committed to the development of our
people. We are very keen to provide our staff
with the tools and opportunities to develop.
This strategy will allow us to continue 'growing
our own' and this year we were delighted to
promote two of our people to Partner, three to
RI and one to Director. We also promoted 20
members of staff to Audit Manager.
Our personal and management development
courses provide a variety of opportunities
that allow our people to tailor their own
development based on their personal needs
both in their current role and as they progress
through different roles during their career.