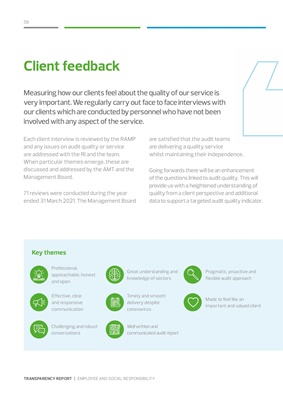 56
TRANSPARENCY REPORT | EMPLOYEE AND SOCIAL RESPONSIBILITY
Client feedback
Measuring how our clients feel about the quality of our service is
very important. We regularly carry out face to face interviews with
our clients which are conducted by personnel who have not been
involved with any aspect of the service.
Each client interview is reviewed by the RAMP
and any issues on audit quality or service
are addressed with the RI and the team.
When particular themes emerge, these are
discussed and addressed by the AMT and the
Management Board.
71 reviews were conducted during the year
ended 31 March 2021. The Management Board
are satisfied that the audit teams
are delivering a quality service
whilst maintaining their independence.
Going forwards there will be an enhancement
of the questions linked to audit quality. This will
provide us with a heightened understanding of
quality from a client perspective and additional
data to support a targeted audit quality indicator.
Key themes
Professional,
approachable, honest
and open
Effective, clear
and responsive
communication
Challenging and robust
conversations
Great understanding and
knowledge of sectors
Timely and smooth
delivery despite
coronavirus
Well written and
communicated audit report
Pragmatic, proactive and
flexible audit approach
Made to feel like an
important and valued client