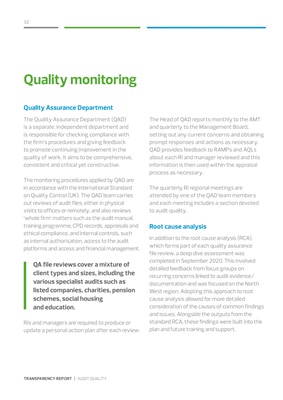 32
TRANSPARENCY REPORT | AUDIT QUALITY
Quality monitoring
Quality Assurance Department
The Quality Assurance Department (QAD)
is a separate, independent department and
is responsible for checking compliance with
the firm's procedures and giving feedback
to promote continuing improvement in the
quality of work. It aims to be comprehensive,
consistent and critical yet constructive.
The monitoring procedures applied by QAD are
in accordance with the International Standard
on Quality Control (UK). The QAD team carries
out reviews of audit files, either in physical
visits to offices or remotely, and also reviews
'whole firm' matters such as the audit manual,
training programme, CPD records, appraisals and
ethical compliance, and internal controls, such
as internal authorisation, access to the audit
platforms and access and financial management.
QA file reviews cover a mixture of
client types and sizes, including the
various specialist audits such as
listed companies, charities, pension
schemes, social housing
and education.
RIs and managers are required to produce or
update a personal action plan after each review.
The Head of QAD reports monthly to the AMT
and quarterly to the Management Board,
setting out any current concerns and obtaining
prompt responses and actions as necessary.
QAD provides feedback to RAMPs and AQLs
about each RI and manager reviewed and this
information is then used within the appraisal
process as necessary.
The quarterly RI regional meetings are
attended by one of the QAD team members
and each meeting includes a section devoted
to audit quality.
Root cause analysis
In addition to the root cause analysis (RCA),
which forms part of each quality assurance
file review, a deep dive assessment was
completed in September 2020. This involved
detailed feedback from focus groups on
recurring concerns linked to audit evidence/
documentation and was focused on the North
West region. Adopting this approach to root
cause analysis allowed for more detailed
consideration of the causes of common findings
and issues. Alongside the outputs from the
standard RCA, these findings were built into the
plan and future training and support.