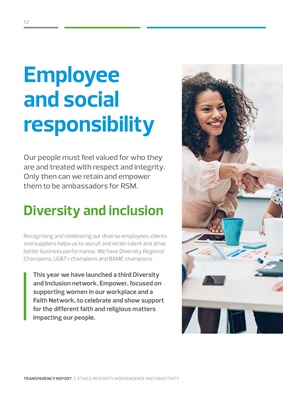 52
TRANSPARENCY REPORT | ETHICS: INTEGRITY, INDEPENDENCE AND OBJECTIVITY
Employee
and social
responsibility
Our people must feel valued for who they
are and treated with respect and integrity.
Only then can we retain and empower
them to be ambassadors for RSM.
Diversity and inclusion
Recognising and celebrating our diverse employees, clients
and suppliers helps us to recruit and retain talent and drive
better business performance. We have Diversity Regional
Champions, LGBT+ champions and BAME champions.
This year we have launched a third Diversity
and Inclusion network, Empower, focused on
supporting women in our workplace and a
Faith Network, to celebrate and show support
for the different faith and religious matters
impacting our people.