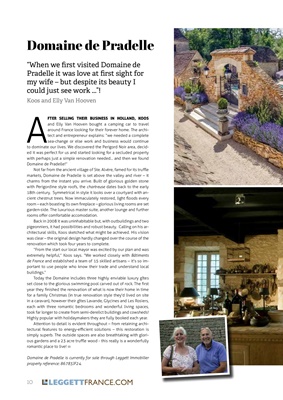 Domaine de Pradelle
"When we first visited Domaine de
Pradelle it was love at first sight for
my wife - but despite its beauty I
could just see work ..."!
Koos and Elly Van Hooven
A
FTER SELLING THEIR BUSINESS IN HOLLAND, KOOS
and Elly Van Hooven bought a camping car to travel
around France looking for their forever home. The architect and
entrepreneur explains: "we needed a complete
sea-change or else work and business would continue
to dominate our lives. We discovered the Perigord Noir area, decided it was perfect
for us and started looking for a secluded property
with perhaps just a simple renovation needed... and then we found
Domaine de Pradelle!"
Not far from the ancient village of Ste. Alvère, famed for its truffle
markets, Domaine de Pradelle is set above the valley and river - it
charms from the instant you arrive. Built of glorious golden stone
with Perigordine style roofs, the chartreuse dates back to the early
18th century. Symmetrical in style it looks over a courtyard with ancient chestnut
trees. Now immaculately restored, light floods every
room - each boasting its own fireplace - glorious living rooms are set
garden-side. The luxurious master suite, another lounge and further
rooms offer comfortable accomodation.
Back in 2008 it was uninhabitable but, with outbuildings and two
pigeonniers, it had possibilities and robust beauty. Calling on his architectural
skills, Koos sketched what might be achieved. His vision
was clear - the original design hardly changed over the course of the
renovation which took four years to complete.
"From the start our local mayor was excited by our plan and was
extremely helpful," Koos says. "We worked closely with Bâtiments
de France and established a team of 15 skilled artisans - it's so important to use people who know
their trade and understand local
buildings."
Today the Domaine includes three highly enviable luxury gîtes
set close to the glorious swimming pool carved out of rock. The first
year they finished the renovation of what is now their home in time
for a family Christmas (in true renovation style they'd lived on site
in a caravan), however their gîtes Lavande, Glycines and Les Rosiers,
each with three romantic bedrooms and wonderful living spaces,
took far longer to create from semi-derelict buildings and cowsheds!
Highly popular with holidaymakers they are fully booked each year.
Attention to detail is evident throughout - from retaining architectural
features to energy-efficient solutions - this restoration is
simply superb. The outside spaces are also breathtaking with glorious gardens
and a 23 acre truffle wood - this really is a wonderfully
romantic place to live!
Domaine de Pradelle is currently for sale through Leggett Immobilier
property reference: 86783JF24.
10 LEGGETTFRANCE.COM
10