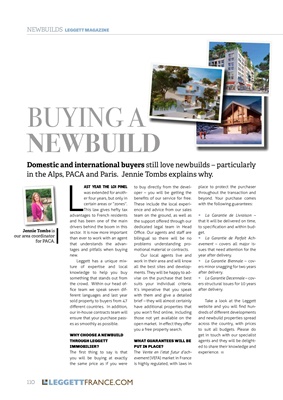 NEWBUILDS LEGGETT MAGAZINE
110110110
place to protect the purchaser
throughout the transaction and
beyond. Your purchase comes
with the following guarantees:
• La Garantie de Livraison -
that it will be delivered on time,
to specification and within budget.
• La Garantie de Parfait Achevement
- covers all major issues that need attention for
the
year after delivery.
• La Garantie Biennale - covers
minor snagging for two years
after delivery.
• La Garantie Decennale - covers
structural issues for 10 years
after delivery.
Take a look at the Leggett
website and you will find hundreds
of different developments
and newbuild properties spread
across the country, with prices
to suit all budgets. Please do
get in touch with our specialist
agents and they will be delighted to share
their knowledge and
experience.
L
AST YEAR THE LOI PINEL
was extended for another four
years, but only in
certain areas or "zones".
This law gives hefty tax
advantages to French residents
and has been one of the main
drivers behind the boom in this
sector. It is now more important
than ever to work with an agent
that understands the advantages
and pitfalls when buying
new.
Leggett has a unique mixture
of expertise and local
knowledge to help you buy
something that stands out from
the crowd. Within our head office
team we speak seven different
languages and last year
sold property to buyers from 47
different countries. In addition,
our in-house contracts team will
ensure that your purchase passes as smoothly as possible.
WHY CHOOSE A NEWBUILD
THROUGH LEGGETT
IMMOBILIER?
The first thing to say is that
you will be buying at exactly
the same price as if you were
to buy directly from the developer - you
will be getting the
benefits of our service for free.
These include the local experience
and advice from our sales
team on the ground, as well as
the support offered through our
dedicated legal team in Head
Office. Our agents and staff are
bilingual so there will be no
problems understanding promotional material or contracts.
Our local agents live and
work in their area and will know
all the best sites and developments. They
will be happy to advise on the purchase
that best
suits your individual criteria.
It's imperative that you speak
with them and give a detailed
brief - they will almost certainly
have additional properties that
you won't find online, including
those not yet available on the
open market. In effect they offer
you a free property search.
WHAT GUARANTEES WILL BE
PUT IN PLACE?
The Vente en l'etat futur d'achevement
(VEFA) market in France
is highly regulated, with laws in
Domestic and international buyers still love newbuilds - particularly
in the Alps, PACA and Paris. Jennie Tombs explains why.
BUYING A
NEWBUILD
Jennie Tombs is
our area coordinator
for PACA.
LEGGETTFRANCE.COM