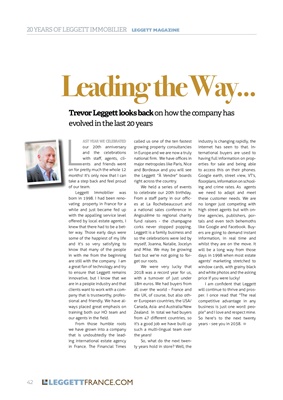 42 Leading the Way...
L
AST YEAR WE CELEBRATED
our 20th anniversary
and the celebrations
with staff, agents, clients and friends went
on for pretty much the whole 12
months! It's only now that I can
take a step back and feel proud
of our team.
Leggett Immobilier was
born in 1998. I had been renovating property
in France for a
while and just became fed up
with the appalling service level
offered by local estate agents, I
knew that there had to be a better way.
Those early days were
some of the happiest of my life
and it's so very satisfying to
know that many of the people
in with me from the beginning
are still with the company. I am
a great fan of technology and try
to ensure that Leggett remains
innovative, but I know that we
are in a people industry and that
clients want to work with a company that is trustworthy,
professional and friendly.
We have always placed
great emphasis on
training both our HO team and
our agents in the field.
From those humble roots
we have grown into a company
that is undoubtedly the leading international estate agency
in France. The Financial Times
called us one of the ten fastest
growing property consultancies
in Europe and we are now a truly
national firm. We have offices in
major metropoles like Paris, Nice
and Bordeaux and you will see
the Leggett "À Vendre" boards
right across the country.
We held a series of events
to celebrate our 20th birthday.
From a staff party in our offices at La Rochebeaucourt
and
a national sales conference in
Angoulême to regional charity
fund raisers - the champagne
corks never stopped popping.
Leggett is a family business and
so the celebrations were led by
myself, Joanna, Natalie, Jocelyn
and Mike. We may be growing
fast but we're not going to forget
our roots.
We were very lucky that
2018 was a record year for us,
with a turnover of just under
18m euros. We had buyers from
all over the world - France and
the UK, of course, but also other European
countries, the USA/
Canada, Asia and Australia/New
Zealand. In total we had buyers
from 47 different countries, so
it's a good job we have built up
such a multi-lingual team over
the years!
So, what do the next twenty years
hold in store? Well, the
industry is changing rapidly, the
internet has seen to that. International buyers
are used to
having full information on properties for
sale and being able
to access this on their phones.
Google earth, street view, VT's,
floorplans, information on schooling
and crime rates. As agents
we need to adapt and meet
these customer needs. We are
no longer just competing with
high street agents but with online agencies,
publishers, portals and even
tech behemoths
like Google and Facebook. Buyers
are going to demand instant
information, in real time and
whilst they are on the move. It
will be a long way from those
days in 1998 when most estate
agents' marketing stretched to
window cards, with grainy black
and white photos and the asking
price if you were lucky!
I am confident that Leggett
will continue to thrive and prosper.
I once read that "The real
competitive advantage in any
business is just one word: people" and
I love and respect mine.
So here's to the next twenty
years - see you in 2038.
Trevor Leggett looks back on how the company has
evolved in the last 20 years
20 YEARS OF LEGGETT IMMOBILIER LEGGETT MAGAZINE
LEGGETTFRANCE.COM