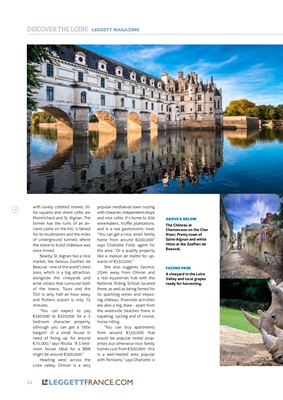 14 LEGGETTFRANCE.COM
DISCOVER THE LOIRE LEGGETT MAGAZINE
with lovely cobbled streets, little squares
and street cafes are
Montrichard and St. Aignan. The
former has the ruins of an ancient castle on the hill, is famed
for its mushrooms and the miles
of underground tunnels where
the stone to build châteaux was
once mined.
Nearby St. Aignan has a nice
market, the famous ZooParc de
Beauval - one of the world's best
zoos, which is a big attraction,
alongside the vineyards and
wine cellars that surround both
of the towns. Tours and the
TGV is only half an hour away,
and Poitiers airport is only 75
minutes.
"You can expect to pay
€160,000 to €220,000 for a 3
bedroom character property,
although you can get a 'little
bargain' of a small house in
need of fixing up, for around
€75,000," says Nicola. "A 5 bedroom
house ideal for a B&B
might be around €300,000."
Heading west across the
Loire valley, Chinon is a very
popular mediaeval town oozing
with character, independent shops
and nice cafes. It's home to 300
winemakers, truffle plantations,
and is a real gastronomic treat.
"You can get a nice, small family
home from around €200,000"
says Charlotte Field, agent for
the area. "Or a quality property
like a maison de maÎtre for upwards
of €350,000."
She also suggests Saumur,
25km away from Chinon and
a real equestrian hub with the
National Riding School located
there, as well as being famed for
its sparkling wines and imposing château. Riverside
activities
are also a big draw - apart from
the waterside beaches there is
kayaking, cycling and of course,
horse-riding.
"You can buy apartments
from around €150,000 that
would be popular rental properties but otherwise nice
family
homes cost from €300,000 - this
is a well-heeled area popular
with Parisians," says Charlotte.
ABOVE & BELOW
The Château at
Chenonceau on the Cher
River; Pretty town of
Saint-Aignan and white
rhino at the ZooParc de
Beauval.
FACING PAGE
A vineyard in the Loire
Valley and local grapes
ready for harvesting.